I Have A Fear of Talking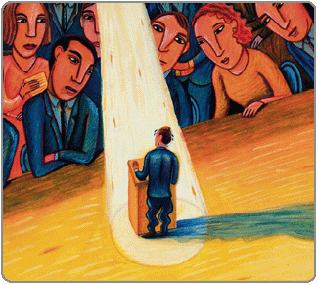 Hang on for a minute...we're trying to find some more stories you might like.
I am alone in my head, words echoing throughout my brain as I struggle to force words to come out of my mouth. "Contribute to the group,"  I try to urge myself. "Everybody thinks you are a dead weight. Just say something." After ten minutes, I finally gather the courage to let my voice be heard. With my heart pounding in my ears, a few thoughts rise to my mouth and my lips open as a quiet whisper leaks out, a croak that is interrupted by the louder, more valid opinions of my peers. I do not attempt to say anything else for the rest of the class and nobody asks me to, leaving me alone with my tormented regrets of not being able to do something that is as basic and essential to the human existence as talking.
Anxiety can attack its victims in a myriad of different forms ranging from panic attacks to speech anxiety. This mental disorder can interfere with the condition of one's life to a great extent and the ramifications of anxiety extend beyond simply the scope of internal turmoil. It affects how a person interacts with others, the mood and confidence one has throughout the day, the ability to normally function in society, etc.
Glossophobia makes every social encounter, however mundane they may seem, extremely stressful for those with it, resulting in the same symptoms the average person may have before giving an important presentation to a considerable amount of people. Asking teachers quick questions can cause shaky hands, and speaking up among a group of friends can result in feeling lightheaded.
Although social anxiety may feel at times like it is engulfing your life in a unrelenting dark cloud that cannot be shaken, there are several steps one can take in order to improve their mental health to a more manageable size. Support is essential in the process to recovery; whether it is alerting your family and friends of your condition, or accepting the help from those around you – do not feel ashamed of reaching out to others. Knowing loved ones are on your side and knowing they will be there to help you when you fall is one of the most comforting feelings a sufferer can have. Rehearsing certain lines or phrases can also help reduce to anxiety formed before social interactions. Writing down what you want to say before a phone call or practicing having smooth conversations can be extremely instrumental in diminishing the fear of talking.
There have been numerous people in my life who do not understand the inner turmoil that is concurrent in my head. They question why I do not just talk. They tell me that I am simply shy and I need to exert myself to be more extroverted. They ask me why I am not fighting this fear in myself. To that, I say that I am fighting. I fight everyday when I go to school and force myself to interact with friends who love me. I fight everyday when I wake up in the morning and make the conscious decision to not let chemical imbalances in my brain to determine the quality of my life. I fight everyday I am breathing. I, and all of the 40 million humans who suffer from anxiety and depression, are more than the sum of our circumstance. We are strong, we are here, we are in war against ourselves, and we are going to win.