Starting to Improve the World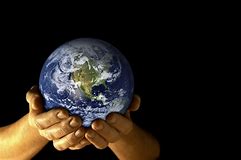 Hang on for a minute...we're trying to find some more stories you might like.
You can't improve the whole world alone, but like any other subject there are small things you can do. Some of these will not only benefit others, but they will benefit your own well being as well. So without further a do here are my top ten things you can do.
1) SHOW KINDNESS
A lot of you see this and are rolling your eyes, but showing kindness  is as small as smiling and saying hi to someone while giving them an honest compliment as you see them in a hallway. How many of you can say you're kind to people you have never met or didn't know to well? Remember kindness has a ripple effect. It's bound to come back to you.
2) Pick Up Trash
Not the most appealing thing, but it doesn't take much out of you. See a piece of trash on the floor by a trash can? Pick it up and put it in the trash. If you're not scared and feel bold walk around your local park with a trash bag and pick up the trash you see on the floor while you're there. You'll not only be beautifying the area around you, not just for your "enjoyment", but for the enjoyment of everyone else. Do you want an earth 30 years from now.
3) Send Someone a Happiness Kit
What is a happiness kit? Well it's a box that can be full of the following; chocolate; a joke book; funny movie; card with happy quotes written on the inside of it and so on. Anytime you see friends or family who look a bit down grab a box and start making a Happiness Kits. You don't have to put the things I listed above into the box. Make it your own!
4) Give Away Unwanted Stuff
Remember that shirt you haven't worn since the eighth grade? Or those jeans you were once in love with, but now can't bare to wear. Did you ever think of throwing any of your old clothes or even books away? Well don't a simple thing you can do is put them all in a box or grocery bag and donate them to Good Will or even the Salvation Army. It may not get you any money in return, but you may have made someone's day 100x better. That shirt you haven't worn just became someone else's favorite shirt. The jeans you once loved are now being loved by someone else. The more good you put out in the world the more good you receive. It's one huge ripple effect.
5) Foster an Animal
A lot of places like 2nd Chances Rescue or Sunny Oasis Rescue who are local organizations, need people to foster puppies or adult dogs who are on their way to being euthanized or even just need a pit stop before finding their forever home . I'm what people call a foster failure, I've fostered 8 puppies throughout the years with the help of my mom and every single time not going to lie I've begged to a million times to them keep all. I got lucky twice and got to keep my blind, partially deaf Boxer-Frenchie mix who I've had for 6 years now. Almost a year ago I also ended up keeping another one of my foster puppies who's forever home cancelled on him, but that's enough about me. Fostering an animal can save lives and it's a big learning experience as well.
6) Donating Blood
I personally hate the sight of blood, but ironically I would want to donate blood when I can. By donating some of your own you can quite literally save a life or two with just an hour or so of your time. Our school and local hospitals host a blood drive every year where you can go sit down gets some blood taken, have some pizza or a peanut butter sandwich afterwards. The only requirement is that you must be sixteen and older.
7) Volunteer
Volunteering is possibly the simplest thing you can do. It doesn't take much, but motivation and determination. Places are always looking for volunteers who are hard working. Simple places to volunteer your time would be at a food drive, homeless shelters, men and woman shelters, you don't have a clue just how much a couple hours of volunteering can change someone's life.
8) Turn Your Phone Off!!
If you're out with friends or family turning off your phone is a simple yet forgotten courtesy. In this generation, people are always looking down at their phone, but guilty as charged I also often look down as I'm walking when I hear a certain notification from my messages. Turning off your phone when you're with loved ones also shows you are actually interested in what they have to say or even that you want to spend quality time with them and not just a screen.
9) Visit Elderly in Nursing Homes
In my opinion, elderly people are so sweet and caring with their wrinkly faces and caring eyes. They're full of lessons and goofy, yet meaningful stories. Often elderly people in nursing homes don't have family members that come and visit them which is sad. That's where amazing people like us come along and visit them creating a bond that will change our lives and theirs.
10) Plant Trees and Flowers
Our bodies need oxygen to function properly and that's exactly what trees and flowers give off. So why not plant things that help our bodies function properly. Even though trees may take ten or so years to fully grow trees give off oxygen. While we give off Carbon Dioxide as we breathe and talk to one another, which helps trees and flowers to thrive along with water and sunshine of course (basic Biology). Out of all the things I told you about improving the world, I think this is the only one that has to do with the actual Earth itself.
So remember to be a good human!! The universe is watching.