Serena Williams Accused Of Cheating – Umpires Might Boycott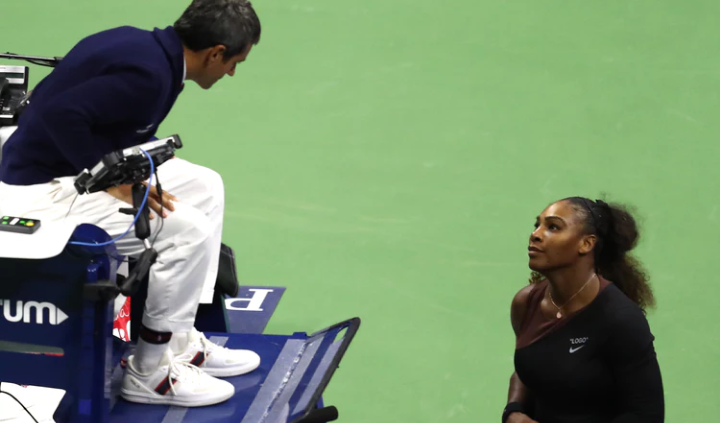 Serena Williams lost at the U.S. Open women's singles final against Naomi Osaka on September 8. This was a result of the code violations from Carlos Ramos for illegal coaching from her player box, racquet abuse, and calling the umpire a "liar" and a "thief'," which resulted in a warning, a point penalty, and, finally, a game penalty.
Williams angrily told Ramos, "you will never, ever, ever be on another court of mine as long as you live. You are the liar. When are you going to give me an apology? You owe me an apology. Say it. Say you're sorry and you stole a point from me. You're a thief too."
Williams also went on to demand an apology while claiming she never cheats and wants to set an example for her daughter.
Williams even accused Ramos of sexism by saying "because I am a woman you are going to take this away from me? That is not right."
"For me, it blows my mind," Williams said, "but, I'm going to continue to fight for women and to fight for us to have equality.
"This is just an example for the next person that has emotions, that wants to express themselves and wants to be a strong woman."
Both players were booed during the trophy presentation ceremony in which Williams asked the crowd to "make this the best moment we can. Let's give everyone the credit that is due. Let's not boo anymore. Congratulations, Naomi."
"They're going to be allowed to do that because of today. Maybe it didn't work out for me, but it's going to work out for me, but it's going to work out for the next person."
Osaka was later interviewed and went on to say "I was just trying to focus. Since it was my first Grand Slam Final, I did not want to get overwhelmed. Serena came to the bench and told me she had a point penalty and when she got the game penalty, I didn't know either. I was just trying to focus on myself at that time."
Umpires reportedly consider boycotting Serena Williams' matches as they feel that Ramos is being unfairly criticized for his conduct during the match.
The umpiring fraternity is thoroughly disturbed at being abandoned by the WTA. "They are all fearful they could be the next Ramos. They feel that no one has their back when they have to make unpopular calls."
The International Tennis Federation did wholeheartedly back Ramos, saying in its statement that Carlos Ramos is one of the most experienced and respectful umpires in tennis. Mr.Ramos's decisions were in accordance with the relevant rules and were re-affirmed by the U.S. decision Open's to fine Serena Williams for the three offenses.
Stephen Curry, a professional basketball player, instead talked about how Williams showed "grace and class. At the end of the day, I hope everybody understands and celebrates Naomi because she's the U.S. Open champion and that's pretty dope".
Meanwhile, others went on Twitter and replied to Curry stating, "the only Grace and Class we saw was from Naomi, who was humble and even bowed to Serena, thanking her for playing".