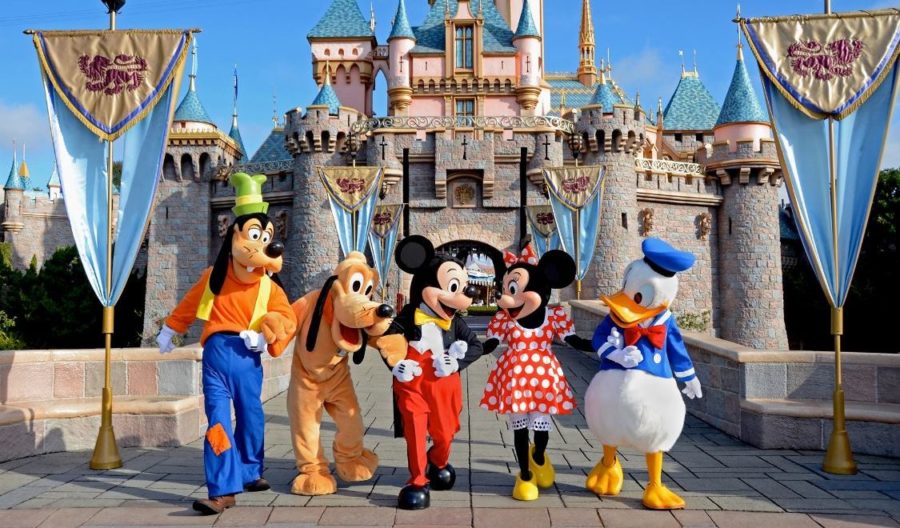 For about 63 years, the Disneyland Resort, also known as the "happiest place on earth", has been the dream vacation destination for many families. Since the park opened, Disneyland has been best known for its attractions, food, shows, and the opportunity to meet the one and only Mickey Mouse, as well as a variety of other Disney characters. From high thrills to a firework spectacular, Disneyland is a special place for all ages, but is the admission price worth getting the Disneyland experience? Is spending $185 dollars for a one-day park hopper worth going to the happiest place on earth?
The Disneyland Resort consists of 2 parks – Disneyland and the Disney California Adventure. The parks have a total of 86 attractions combined, over 100 dining locations, and 52 live entertainment shows. Disneyland consists of eight themed lands – Main Street U.S.A, Adventureland, Frontierland, New Orleans Square, Critter Country, Fantasyland, Mickey's Toontown, Tomorrowland, and the highly anticipated Star Wars Land is set to open in the summer of 2019.  Disney California Adventure consists of 7 themed lands – Buena Vista Street, Pixar Pier, Paradise Garden Park, Grizzly Peak, Pacific Wharf, Hollywood Land, Cars Land, and Marvel Land that is set to open in 2020.
Every time you visit the Disneyland Resort, there is always something going on, whether it's seeing new construction signs to new decorations – every time you walk into the Disney parks you always get a new experience. Throughout the years, there has been controversy about whether or not Disneyland is only for children. For the past decade, the Disneyland Resort has been taking away many beloved attractions and replacing them with attractions meant to please only the children. Due to Disney continually making changes to the parks, prices for everything from parking, to food, and annual passes have dramatically increased. With the new attractions and lands set to open in 2019 and 2020, many people are visiting the park which causes massive crowds. Lines for attractions are ridiculous; the average wait time is at least thirty minutes long for every ride. This is a huge problem because kids tend to lose patience quickly and when kids get upset the parents become upset, which could ruin your Disneyland experience.
Although the crowds can be frustrating at times, the Disneyland Resort has productive ways to keep people occupied helps families enjoy their visit to the parks. As much as the rides at the parks are enjoyable, the Disneyland Resort is also known for their unique and up-beat live entertainment.  From singing princesses to witnessing Mickey Mouse defeating Maleficent's dragon, Disney goes up to heights in their entertainment to send a message that "as long as there is imagination left in the world the possibilities are endless". The actors used in all of the shows are professionals coming from famous singing and dancing departments. The stage decorations is out of this world, as the Disney shows immerse the crowds by using special effects as well as bringing the audience involved into the show. Including the actors and special effects, each Disney Park show individually averages a cost of about $25,000.
What's also unique about the Disney Parks is being able to have the opportunity to take a picture with your favorite Disney character. The Disney Park offers a wide variety of characters you can meet. Often times, especially during the holidays, the Disney characters will dress up in costumes. What's special about meeting the Disney characters is that they briefly talk to each guest personally and try to spend as time much time as they can to get to know them. Meeting with the Disney characters is free of charge and although the lines can be long at times, being able to hug, get an autograph, and talk to your favorite Disney character is worth it. It's certainly an exciting experience that no one would want to miss.
What better way to end a Disneyland experience with an amazing firework spectacular. Every night, Disneyland galvanizes the crowd by ending the park hours with a bang. The Fireworks involve a heartwarming story through ionic Disney tales. With the special effects and projections spread throughout the castle, the firework show immerses you with images to make you feel like you are in the Disney tale.
Disneyland is a fun and magical place to spend time with your loved ones. Although Disneyland can be crowded at times, it is a great experience to ride the attractions and even eat some delicious food when watching live entertainment. Entering the Disney parks and being able to explore new activities and watching the beautiful scenery – it doesn't get much better than that.
Taking this all into consideration makes it clear it is worth the price. Being with friends and family at the Disneyland Resort is truly a unique – and priceless – experience for all ages.