The Battle of Rimpau; High School Freshman Football Game
On October 3rd, one of the biggest freshman football games in the year for Santiago High School happened.  On this day, the Santiago Sharks battled against the Centennial Huskies for 4 intense quarters.  It has been 3 or 4 years since the freshman Sharks beat the Huskies, and that day was another chance for the Sharks to pull out the win.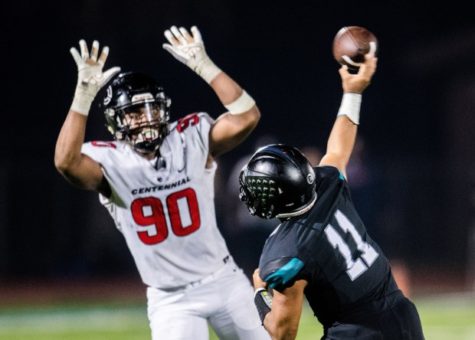 In the first quarter, both teams came out strong on each side of the ball, but especially on the defensive side. During the beginning of the first quarter, the Centennial quarterback made a great throw, deep down the field, and was caught by the outside receiver for a touchdown.  Centennial had an early lead of 7-0 in the first quarter.  Santiago had the ball but they didn't seem to be getting anywhere; the Centennial defense was limiting them to minimum yards.  Centennial had the ball again and they score…again.  They were in the middle of the field, and the quarterback made another good throw, getting them to the 2-yard-line.  The next play, the Centennial quarterback ran it in for a touchdown.  The score was then 14-0, with Santiago trailing by 14 in the middle of the first quarter.
By the second quarter, Centennial still had the lead of 37-0. Santiago could not find any ways to score; the Centennial defense was just too strong.  In the middle of the second quarter, Santiago had the ball on their own 5 yard line.  On a bad snap, the Santiago quarterback struggled to grab the ball, but when he finally got control of it, the defense was ready and upfront, and they tackled him in the end zone which caused a safety, giving them 2 points.
After half-time, in the end of the third quarter, the score was 44-0, but the Santiago defense hadn't let the Huskies score in about a quarter.  When Centennial turned over the ball, Santiago had the ball on the 35 going into the end zone.  The Santiago quarterback makes a deep throw in the middle and it was caught for their first touchdown!
By the end of the game, the score ended as 44-7, with Centennial pulling out another victory over Santiago. Until next year!
About the Contributor
Brendan Gargalis, writer
Brendan Gargalis (9) I play football and baseball here at Santiago.  My favorite color is purple, i love salads and i really like to eat fruits.  Also...