A Capitalist Kibbutz for a Maddened Age: WeWork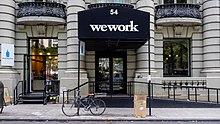 From the way Adam Neumann talks, you'd think that he eats Rubik's cubes wrapped in pancetta and rebuilt the Temple in Jerusalem during his gap year. It's almost disappointing when you look into his life and find out that he's just a Silicon Valley lovechild with panache, but, boy, is the ride fun before you get there.
Says Neumann: "There are 150 million orphans in the world. We want to solve this problem and give them a new family: the WeWork family."
Also: "[WeWork's] valuation and size today are much more based on our energy and spirituality than it is on a multiple of revenue."
Supremely immeasurable: "We are here in order to change the world[…]"
And, perhaps most foreboding: "I need to have the biggest valuation I can, because when countries are shooting at each other, I want them to come to me." I'm not quite sure whether Neumann is looking to be mediating international conflicts or selling the guns. Based on the record of his business practices; his long, long list of former employees; and WeWork's staggering fluctuation in valuation and history of veritable bacchanals fueled by theoretical money, either scenario would end up badly.
So what is WeWork, exactly? What is it going for? At first glance, it's easy to see how WeWork got its $47 billion valuation. Its central premise is simple–to rent hot real estate, renovate it to the carbon-copy standards of aesthetics ubiquitous to the young and hip Buzzfeed gentility, and sublet it to startups and small businesses belonging to said gentility. The 11th most valuable startup in the world according to Business Insider, WeWork saw its genesis in a tiny Brooklyn startup called Green Desk in 2008. With a baby-clothes initiative dying on his doorstep, Neumann and friend Miguel McKelvey convinced their reluctant landlord to sell them a floor of his building, which Neumann promptly made plans to renovate and sublet with the gimmick that the building would be powered by wind power with furniture made of recycled materials. This marvelous idea proved all the rage until Neumann sold the company to his landlord and struck out on his own, abandoning Green for a new company, which he called WeWork. The new, modish company would feature artsy decorated workspaces and free-flowing beer and kombucha, to be used for an average of ten days and then cleared of clove cigarette smoke for a new batch of yuppies. Neumann's vision was bombastic as it was vague–namely, to change the world by completely restructuring the corporate machine. He intended to do this by promoting an atmosphere of the workplace rigor and building a company where work was constant and backbreaking. Neumann's bragged about his 20-hour workdays and the frequency of meetings called after midnight, during which shots of tequila and whiskey would fuel the good vibes and brainstorming (with great energy, who needs a union? Not WeWork). And investors dug this. Entrenched in the era of "work hard, sleep when you're dead, the kids can raise themselves," the initial investor response to WeWork's business practices was overwhelmingly positive. Then revenues dropped into the deficits, and Neumann accrued half a billion dollars of debt, and the CEO of the company, once renowned as a visionary, simply couldn't be trusted with investments anymore. I don't know what to tell you, Adam–talking about how you want to be the president of the world isn't going to score you many points with these anti-New World Order baby boomers.
As said by an internal WeWork slogan, the company plans to operationalize love. To that tune, former executives have described WeWork as a cult, with a culture like that of a revolving door. As I read, it became easier and easier to see why. Panic and fear rule the average WeWork workplace, with 50 feet on average allocated to each employee and the private phone booths valuable real estate, in case you planned on working. Whether or not you're fired ("culls" of unproductive workers are common to keep everyone on their toes), it's likely that employees will enter WeWork excited to make something of themselves and of the world and leave of their own volition, jaded, disillusioned, and sleep-deprived. Providing a cast of irony to the whole affair is WeWork's desperate assertions that the company is built on a foundation of community and loving-kindness, which is not an over-supported claim.
"WeWork is a 'capitalist kibbutz,'" says Neumann, "where weakness won't be accommodated. On the one hand, the community. On the other hand, you eat what you kill." I can think of no statement more contradictory, oxymoronic, and overwhelmingly stupid than "capitalist kibbutz." Is it not the point of kibbutzim that, primarily, there's no dog-eat-dog capitalistic attitude, and secondarily, that there's no money? Never mind that–in case you didn't think the crazy could get any more overplayed, in 2019, Neumann announced the creation of two new extensions of WeWork–WeLive, a series of uber-expensive micro-apartments on top of the office space (in case the staggering work-life differential apparent in WeWork's basis of operations was too much for you) and WeGrow, which despite the impressive name consists of an elementary school and a coding academy.
Fueled by investments funneled from a passel of venture capitalists and, notably, the Saudi Arabian government, WeWork's constant monetary hemorrhaging (1.9 billion in 2018) and culture of yuppie opulence call to mind the figure of a skyscraper smelling strongly of Bear Claw white wine and IKEA furniture collapsing constantly in on itself whilst an army of molemen rebuilds it from the top. Impressive, yes, and horrifying, yes, but an unsustainable venture, ultimately doomed. But take heart–Google's examinations of WeWork's search response data shows that the company can't salvage its reputation through even the most assiduously applied advertising. Considering the nitty-gritty of business, WeWork's strategy of purchasing 15-year leases in "expensive" cities is inefficient, with insufficient tenants to support such massive investments. Their minimal real land ownership doesn't do much for cost management either. In more theoretical terms, WeWork's S-1 paperwork of August 2019 (the documents that, if approved, will allow a company to go public) tanked, and publicizing failed. Despite revenue increases of 106% between 2017 and 2018, WeWork's actual gross earnings plummeted from $-1.2 billion to $-2.2 billion in the same timeframe. And, as previously mentioned, any semblance of corporate governance is clearly a joke–at one point Adam Neumann has owned 65% of his own company's stock (which is very, very illegal!), and to rectify the situation, his subordinates moved the funds into… another company owned by WeWork. Neumann has also been known for borrowing money from his own company and inculcating a wondrous tradition of nepotism in WeWork, only furthering my argument that the man thinks he's Napoleon in skinny jeans.
Is WeWork a shining vision of madcap capitalism, pumped on capital and let loose on an unsuspecting population of freelancers? Possibly. But its fall is imminent. Until then, pray you never see the day when Adam Neumann stands in front of a podium and introduces himself as president of the world.
Due credit must be given to the podcast "Desperate Acts of Capitalism," which inspired this whole dog-and-pony show with their episode about WeWork. This podcast can be found on Spotify. Do check it out.
Also to be found on Spotify is a playlist called WeWork Chill Office Mix, featuring a disturbing amount of songs that are also on my playlists.
About the Writer
Madeleine Caverly, Staff Writer
Madeleine Caverly, sophomore, is pretentious enough to listen to Fleetwood Mac yet chill enough to zone out and pet her cat, and is also very excited to...