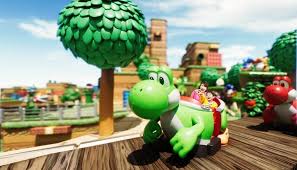 Summarization: Super Nintendo World is a theme park modeled after the company's Super Mario games. The park is set to open up at Universal Studios Japan (USJ) and will be Nintendo's first theme park. Despite the postponement of the park's initial opening date due to Covid-19 restrictions, the park's official website has since released a virtual tour. So as we wait for the opening, let's see what Nintendo's upcoming theme park is all about.
Entrance:
In order to enter the theme park, guests have to go through a Warp Pipe, a reference to the pipes commonly found throughout the Mario games. This entrance to Super Nintendo World is to feature the sound effects from the games with zooming lights surrounding the guests as they enter. The entrance leads into the theme park, this is where the real fun begins.
Attractions:
Super Nintendo World introduces guests to two new attractions: Mario Kart: Koopa's Challenge and Yoshi's Adventure. The park also includes interactive elements to create a more enjoyable experience for guests.
Mario Kart: Koopa's Challenge:
This interactive theme park ride inspired by the Mario Kart franchise will leave guests with an adrenaline rush. The ride is set in Bowser's Castle, which has been decorated with stone walls, spiked fences, and heavy iron doors to create a mysterious atmosphere. The ride takes guests through a series of memorable Mario Kart courses as they attempt to win the Universal Cup. It's been brought to life through advanced technology in augmented reality and projection techniques alongside a physical set that recreates iconic environments in fantastic detail. Note that Koopa is what Japan knows as Bowser, so once the theme park has spread to the North American branches of Universal Studios, it's possible for the ride to be renamed Mario Kart: Bowser's Challenge.
Yoshi's Adventure:
Yoshi's Adventure is an attraction that circles the titular green dinosaur. It's a family-friendly ride where guests ride in a Yoshi-shaped cart as they go on a treasure hunt around the Mushroom Kingdom while searching for Captain Toad. Not much else is currently known about the attraction as USJ has done a decent job at keeping most of the attraction a surprise, so guests will have to wait and see what this ride has in store.
Power-Up Bands:
Power-Up Bands are wristbands that guests can purchase upon entry to enhance their experience at Super Nintendo World. With the Power-Up Band, guests can turn the theme park into a virtual playground and interact with various touchpoints from the Mushroom Kingdom. An example would be that guests can hit a "?" block in reality while digitally gaining coins. With Power-Up Bands, guests can also hunt for keys by playing interactive games to unlock a boss battle with Bowser Jr. Kids can also meet mascot versions of characters like Mario, Luigi, Peach, and Toad at Super Nintendo World, and Power-Up Bands can enhance that experience.
Food:
Of course, no theme park is complete without food, and Super Nintendo World is no exception.
Kinopio's Cafe:
Toad's House has become a restaurant in this lovely café. Here, guests can indulge in different foods inspired by the Super Mario franchise, including a bacon cheeseburger made with a mushroom bun and pecorino cheese to match Mario himself, a mushroom-themed pizza bowl, a Piranha Plant-themed Caprese salad, and a "?" block tiramisu for dessert.
Pit Stop Popcorn:
Here, guests can purchase or refill their popcorn with a Mario Kart-themed popcorn bucket with flashy tires or a Super Star Popcorn Bucket that lights up.
Yoshi's Snack Island:
"This shop specializes in treats for the road", as the website puts it. Here, you can find calzones shaped like green shells filled with yakisoba and cheese to leave guests "shell-shocked" and a Yoshi-themed yogurt lassi that's made with either mango or cantaloupe and topped with whipped cream.
Merchandise and Shop:
Super Nintendo World also contains "star-studded" merchandise from Super Mario that's exclusive to USJ. These souvenirs include (but aren't limited to) hats, glasses, gloves, and plushies. The price range for the plushies went from around $21 to nearly $70, keychains were a little over $7 to under $25, phone cases were about $30, and plenty more items sold somewhere between $10-$50, according to an inside look of USJ's merchandise line.
Conclusion:
Super Nintendo World may not be opening until Covid-19 restrictions in Osaka are uplifted, but once the park is allowed to re-open, the theme park will be a hit. And hey, if you're sad about all of this happening in Japan, don't worry! Super Nintendo World will soon be coming to the Orlando and Hollywood branches of the amusement park as well, so no need to book a flight to Japan to experience this opportunity!