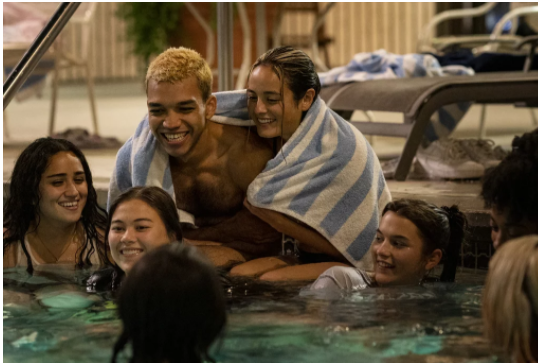 Zelda Barnz was 17 when she co-wrote the first Generation script. She came out as bisexual at 15 to her two fathers, one of whom is the show's other producer and chief director, Daniel Barnz; this story influenced the narrative in particular. Generation shares elements with recent teen dramas such as Euphoria (filmed in Southern California) and Grand Army, but it focuses more on humor than any of the recent standard-bearers for scripted teen dramas. In different ways, both Grand Army and Euphoria address issues that teens face. The drug aspect of being a teenager is the main focus of Euphoria. They address topics such as addiction, depression, physical and mental abuse, and toxic relationships. Grand Army on the other hand focuses on racism, colorism, sexism, rape, and cyberbullying (it also uses monologue in the same layout as a normal teenager). Genera+ion is created by combining the best of both worlds.
What separates Genera+ion apart from shows such as Euphoria and Grand Army is that it is intensely and unashamedly queer. They put gay and bisexual characters at the center of things, rather than cast them off to the side However, the most important aspect of a teen drama is matching the correct performers to the right actors and making the character feel genuine and enticing. Generation, with its most youthful and undiscovered cast, nails that part of the job. Smith was already the lead in Netflix's The Get Down (as well as Detective Pikachu), but this feels like a real breakthrough role for him as Chester, the school provocateur who constantly breaks the dress code by wearing crop tops and making other daring fashion statements. On the water polo team, he's also a king. His status demonstrates that being gay does not automatically make you a pariah in this world.  Everyone feels specific almost immediately, such as Schlesinger and Chloe East cast as brother and sister Nathan and Naomi, whose close bond is extremely unhealthy. Chase Sui Wonders as Riley, a photojournalist satisfied moving throughout every friendship group. Haley Sanchez as Greta, a quiet girl with a clear crush on Riley; and Lukita Maxwell as the hyperwoke Delila.
The bathroom scene is viewed as the show's central mystery, while still having an almost goofy adult Disney Channel sitcom feel to it, complete with pratfalls and screams. The plot isn't particularly shocking, but it's handled with the nonchalance of a TikTok. Maybe that is the true Gen Z impact on Genera+ion. It isn't starting from scratch; rather, it is giving it its own crazy spin. All episodes are now available, and I highly recommend them all specifically because of the bathroom scene. Which, as I mentioned earlier, nothing beats the opening scene, which does an excellent job of hooking its viewers.