The Unexpected Omicron Surge
After the holiday season, towards the end of 2021, there was a major COVID-19 surge across the country. Although this is very similar to the coronavirus spike experienced at the end of 2020, the most recent variant, Omicron, seems to spread significantly faster than previous variants, despite it being a milder form of the virus. 
Many health officials are determining that meeting with friends and families during the holiday season was the largest contributor to the spike in cases, stating that it is "near-crisis level". In Los Angeles County alone, there was a reported 40,000 positive cases per day, with increasing hospitalizations as the weeks have progressed. On a larger scale, the United States has experienced an average of 118,717 new cases per day. This major surge is causing hospitalization rates to rise, while in part, causing many recently opened establishments to close their doors to the public yet again. Many restaurants, like our local Chick-fil-a at the Crossings, are experiencing temporary closures in order to ensure the safety of both their employees and customers.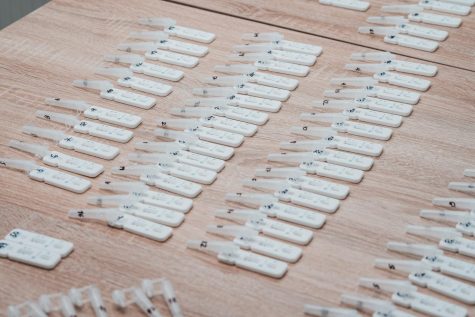 This surge has also caused many areas to experience staffing shortages, especially in schools. Although some schools have transitioned to remote learning after the spike in Coronavirus cases, many have remained open, yet are struggling to get by. Not only is there an abundance of absences from school from the students, but teachers who have also contracted the virus are struggling to find substitutes to take over the class. Superintendent of a San Francisco school district, Vince Matthews, shared his experience with this surge, in stating that, "This is the most challenging time in my 36 years as an educator. We're trying to educate students in the middle of a pandemic while the sands around us are consistently shifting". 
Dr. James Phillip, the chief of disaster at George Washington University Hospital stated that "It's unlike anything we've ever seen, even at the peak of the prior surges of covid". Many other health officials are advising the nation to work towards a higher vaccination percentage, with CDC Director Dr. Rochelle Walensky expressing that "Compared to people who are boosted if you are unvaccinated, you are 10 times more likely to be a case and 20 times more likely to be a fatality". 
Public health officials are also analyzing the daily new confirmed COVID-19 cases in the previous two years and utilizing that information in order to predict what the future may look like for us. Despite Omicron's rapid infection rate, officials are predicting that the cases will decline as rapidly as they surged, however, they are not completely positive, seeing that the last two years of the pandemic have been unpredictable. Officials are hoping that cases will begin to decline as we roll into February and March, seeing that more individuals are gaining immunity, whether it be through getting vaccinated and boosted or getting infected and obtaining immunity that way.