Ahmaud Arbery Killers Found Guilty
Ahmaud Arbery was murdered Februrary 23, 2020 by three white men chased him in a neighborhood and killed him, because he was a black man. Today, these three men, Travis McMichael, Gregory McMichael, and William "Roddie" Bryan, have been found guilty of all counts of federal hate crimes in the trial. The three men all were convicted of interference of rights and attempted kidnapping. The father and son were also found guilty of a firearms charge for carrying and using a firearm while in the midst of a crime of violence. Last year there was a separate trial where the three men were convicted of murdering Arbery and currently serving life sentences.
In this crime, Ahmaud Arbery was running in a neighborhood in Georgia in February of 2020. When the McMichaels and Bryan had spotted him running, the father and son grabbed guns and got in their truck to chase him while Bryan followed in his truck, recording the violent crime. They then had Arbery cornered and Travis McMichael grabbed his shotgun and fatally shot and killed Arbery. After this crime the men were free until the video of the crime had been leaked and released and they were arrested. The first state trial the men were sentenced to life in prison (Bryan was able to receive parole after 30 years served) however there were little to no mentions of race or intention behind the killing.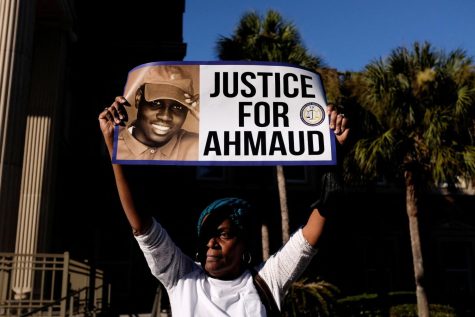 The most recent federal trial found the three men guilty of interference of rights (aka hate crimes) and kidnapping. This verdict was a great triumph for Arbery's family after fighting against unwanted plea deals. "What we got today, we wouldn't have gotten today if it wasn't for the fight that the family put up," said Wanda Cooper Jones, mother of Ahmaud Arbery.