2022 World Cup Group's
The Group stage for the 2022 World Cup has finally been decided and revealed to the public. The qualifiers are now finished, and we now know who will be against who. Fans have patiently been awaiting another World Cup to witness more games like Portugal vs Spain's legendary matchup back in 2018.
Groups
Group A: Qatar, Ecuador, Senegal, Netherlands
Group B: England, USA, Iran, Ukraine/Scotland/Wales
Group C: Argentina, Saudi Arabia, Mexico, Poland
Group D: France, Australia/UAE/Peru, Denmark, Tunisia
Group E: Spain, Costa Rica/New Zealand, Germany, Japan
Group F: Belgium, Canada, Morocco, Croatia
Group G: Brazil, Serbia, Switzerland, Cameroon
Group H: Portugal, Ghana, Uruguay, South Korea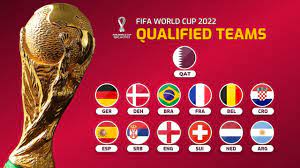 The first game is on November 21, 2022, with Senegal versus the Netherlands. Germany was the first country to secure a place in the group stage which is not surprising to anyone as we all understood how good they would be.
By far one of the most interesting if not the most interesting draw is the teams located in Group B such as England vs the United States. This matchup created a lot of tension between the fans 0f the two countries as they are always taking shots at one another's pronunciation of words. "Soccer vs Football" is what people are calling it.
Portugal and Poland barely made it after winning their playoff matches. Portugal beat Macedonia while Poland overcame Sweeden in their match.
There will be four matches a day, once the group stage commences in a total of 12 days. There will be a third-place game on December 17.
Here are some of them.
Group A: Senegal vs Netherlands (Al Thumama Stadium, Al Khor; kick-off 10 am)
Group B: England vs Iran (Khalifa International Stadium, Al Rayyan; kick-off 1 pm)
Group A: Qatar vs Ecuador (Al Bayt Stadium, Al Khor; kick-off 4 pm)
Group B: USA vs Scotland/Wales/Ukraine (Ahmed bin Ali Stadium, Al Rayyan; kick-off 7 pm)
People are very excited about the idea of Ronaldo vs Messi if both Portugal and Argentina make it to the final. Most people are saying that this will be the final world cup that they both participate in.
There is a total of 8 different venues during the tournament. The following is not in order of time.
Al Bayt Stadium
Khalifa International Stadium
Al Thumama Stadium
Ahmad Bin Ali Stadium
Lusail Stadium
Ras Abu Aboud Stadium
Education City Stadium
Al Janoub Stadium
The following will be some upcoming dates to look forward to.
July 30 – Scottish Premiership season starts along with the EFL Championship, League One, and League Two
August 6 – Premier League season starts
November 12-13 – Final round of Premier League, Championship, and Scottish Premiership matches before the World Cup
November 21 – World Cup starts
December 2 – Final set of group stage matches
December 3-6 – Round 16 starts
December 9-10 – The quarter-finals
December 10 – The Championship resumes
December 13-14 – World Cup semi-finals
December 17 – The Scottish Premiership resumes
December 18 – World Cup final
December 26 – The Premier League resumes