Racist Performance At Walt Disney World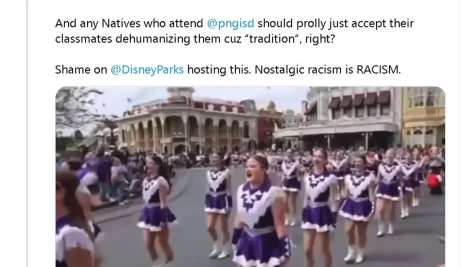 Recently, Walt Disney World apologized for a performance shown at the park in Orlando Florida by a High School drill team. The school in question was Port Neches-Grove High School in Port Neches Texas. The performance was by the school's all-female drill team named, the "Indianettes". The group performed a routine where the team was repeatedly shouting "scalp em, Indians". The video of the school's drill team quickly spread and went viral on platforms such as Twitter. Reportedly the team was originally wearing traditional Native American headdresses but were asked by staff members of the park to take them off. 
After coming under fire, Walt Disney officials say that they deeply regret the performance and that Port Neches-Grove did a different dance from what they should have. Disney claims that the Texas high school had sent in a different performance video for submissions, but showed up to the park and performed their Native American routine. As expected this performance did not go over well with many people, more so Native Americans. A former adviser to Senator Bernie Sanders, Tara Houska who is an Ojibwe tribal attorney as well, gave her voice on the matter subject via Twitter, "Any Natives who attend @pngisd should prolly just accept their classmates dehumanizing them cuz 'tradition', right? Shame on @DisneyParks hosting this." Houska also added "Nostalgic racism is RACISM" A Native American writer for TNT's Miracle Workers, Kelly Lynne D'Angelo added to Houska's tweet saying most of the people upset about the school's performance are Native American and that this is a show of ignorance and people need to do better. 
 The school in question's own mascot is that of a Native American and they call their football field the "Reservation". According to Insider, a spokesperson for the school had revealed that it was the school's eighth time performing the same routine at Walt Disney World in Orlando Florida. The spokesperson had said " This is our eighth time at Disney. They don't ask what you are going to do as far as performance. It's just a contest video and they see the uniforms. They asked for nothing else. This is the same performance we've done all eight times." Public outrage has continued over the performance event at Disney World, many prominent Native American figures in today's society including Cherokee National Principal Cheif, Chuck Hoskin Jr who accused the school of "offensive and stereotypical" depictions of his tribe. 
Port Neches-Groves High School is now facing a large amount of backlash from the social public.