Invest in Hair Care
Spending money on things that don't benefit you is very easy to do in the long run. . Especially with TikTok, it is so easy to be influenced into buying things. Many of those things can end up being pointless buys. With TikTok, there are a bunch of different sides, one being 'haircaretok.' Once I got onto this side of TikTok, I understood and learned the importance of having a good hair care routine. Many people, including myself, dye their hair which doesn't always make your hair the healthiest it can be. Having a good routine makes your hair feel healthy while still getting your hair done and dyed. One TikToker that helped me learn was @mmaddietaylorr. On her account, she posts her hair care routine and many videos giving her viewers tips and tricks on how to get the healthiest hair. I had the pleasure of asking her a few questions on the topic of hair care; here is what she had to say: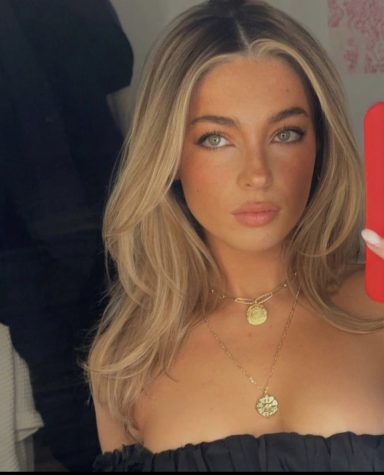 When asked, "What started your hair care journey," her response was, "I was going through a shallow point in my life and was looking to take back my health and confidence; I hated my hair for years because of how damaged it was from bleach and not knowing how to care for it. I started learning how to do my hair at college, and I enjoyed it, and sharing my knowledge and tips with other girls who struggle with their hair became very fulfilling to me." Reading her response and knowing that I, too, have felt this disappointment with how my hair was, in a way, gives me a sense of relief, knowing that after working with my hair and getting it to a healthier state, my confidence will go back up as well. Knowing how to care for your hair is super important, and learning tips from others can help you understand your hair and how to manage it faster. 
Everyone has their holy grail products. That's why I thought asking Maddie what her holy grail products were essential. She named seven products: Redone all-soft shampoo and conditioner, a k18 mask, a ten miracle mask, Redken acidic bond cream, prove royal blowout spray, ouai hair oil, and Mielle rosemary scalp oil. Although not everyone's favorite products are the same or will work the same, I still love knowing what others love and trying them out. You'll never know if something will work great for you if you don't try it. 
Getting advice from someone pretty good at what you want to learn is something I always think will help out so much. When I asked Maddie what advice she would give someone just starting to get into hair care, she responded, "Invest in nice products over time, find products that work for your hair type, and staying consistent is key." Knowing this advice helped with the start of my hair care journey. I also think it's essential to remember each person is different and that what works for one person may not be the best for you. But we all know staying consistent with something makes you good at it, which goes with having a good hair care routine and getting your hair to its healthiest point. 
Maddie also has a little hair care business as well. She does blowouts, cuts, and deep conditioning treatments. Her Instagram account is @manes_by_maddiet. If you are in the Ann Arbor, Michigan area, I recommend booking an appointment with her.