Injustice 2: Fighter Pack 2 Reveal. Hellboy?!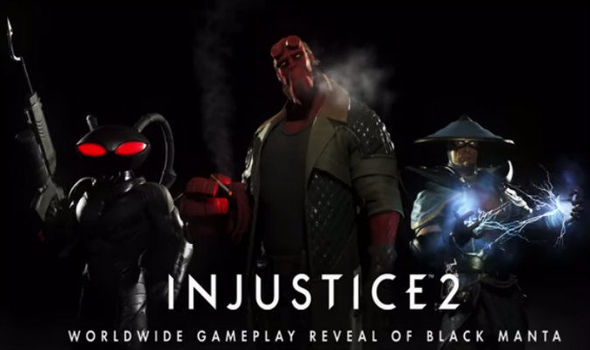 Hang on for a minute...we're trying to find some more stories you might like.
The hit DC fighting game "Injustice 2" finally announced their biggest reveal. This is a sequel to "Injustice: Gods Among Us", which was also a smash hit and was produced by NetherRealm Studios, the same company that made "Mortal Kombat". On August 23, the highly anticipated reveal which every Injustice fan had been waiting for was uncovered: the revolution of the next three DLC fighters. The fighters will be available for owners of the Ultimate Edition and may also be purchased in the game. The first pack of DLC fighters was released on May 5, 2017, which included fan favorite characters, such as Red Hood, Starfire and a character from Mortal Kombat, Sub-Zero. The next batch of DLC characters were revealed last Wednesday. The following paragraphs express my thoughts and opinions on the "Fighter Pack 2" reveal. All ideas written are my own and are not necessarily correct.
Raiden, the first character to get revealed, was the most controversial. Raiden is the thunder god in the popular game "Mortal Kombat" and will be appearing as a guest character. The latter is the reason for unhappiness among fans, myself included. I believe it was completely unnecessary to include another MK character when NetherRealm could have included a DC character with lightning powers. There are a wide variety a characters to choose from, such as Black Lighting, Shazam, and Static Shock. It doesn't even need to be a lightning-powered character! They had the ability to add Constantine, Etrigan, Doctor Manhattan from the Watchmen (although he may still hold a chance, after the silhouettes from the fighter pack 1 trailer looked like his figure), Steel, Batwoman, Azreal, Rorshach from "The Watchmen", Sinestro, the Spectre, Amazo, Beast boy, etc, etc.  There are a sea of games where one can play with Raiden, so his presence is not needed in this game. Plus, his design is terrible. His shirt is over-revealing, and they made his head look like a square that your math teacher would ask you to find the area of.
Next is the character that everyone knew was coming: Black Manta. It is great to know that Black Manta is finally in the game. The silhouette in the trailer and the Xbox leak led some people to believe that it could all just be a troll. However, much to people's happiness, Black Manta will be appearing in "Injustice 2" and will be the first character from "Fighter Pack 2" to be released. A picture of Black Manta in a fight against Swamp Thing was posted on Ed Boon's (creator of Mortal Kombat and well-known troll king) twitter on Friday the 25th, where Black Manta is shown using his eye beams. I, like many others, am really happy that Back Manta will be joining the "Injustice 2" roster. I have always been a fan of Black Manta (despite not particularly enjoying of his primary foe, Aquaman) and I am interested in seeing how his gear and game-play reveal will enhance his fun persona.
Last but not least, I will discuss the character that you, the reader, have been waiting for me to talk about: the one and only, Hellboy. Ed boon stated at San Diego Comic-Con that the "Fighter Pack 2" trailer would have a completely unexpected character in the reveal trailer, and he was not wrong. No one had a clue that Hellboy would be a character that would be revealed in Wednesday's reveal trailer. I personally had a suspicion that Hellboy would be in Injustice 2 long before the "Fighter Pack 2" trailer came out. Like everyone else, I was expecting Spawn-the most highly requested guest character for "Injustice 2"-to be revealed. When Hellboy was revealed as the third character in "Fighter Pack 2", I was at a loss for words. I am completely excited to have Hellboy in Injustice 2. I can't wait to see his gear, his game play, his character intros, and everything in between.  In addition, NetherRealm completely nailed Hellboy's design. Some people do not like his design, critiquing its cartoonish look, but I think he looks great. There is also still time to fix up Hellboy's design before he comes out in early November if need be.
I think "Fighter Pack 2" will be a success. Excluding Raiden, I am very excited about the characters revealed in the trailer. I look forward to playing as these characters, and I hope all you "Injustice 2" fans will enjoy playing with them as well.