Canyon Fire
Hang on for a minute...we're trying to find some more stories you might like.
On Monday afternoon, September 25, a wildfire began to spread along the 91 freeway, nearing the middle area between Anaheim and Corona. The "vegetation fire," as described by the Orange County Fire Authority, was named Canyon Fire as it quickly grabbed the attention of nearby fire stations as it grew to cover over 2,000 acres.
More than 300 firefighters have been working nonstop to combat the raging flames, utilizing hoses as well overhead aircraft. Capt. Steve Concialdi of the Orange County Fire Authority said, "Five helicopters with night-vision capabilities and three planes, including a DC-10, are involved in the firefight."  The night the fire began, the Corona Fire Department tweeted that the growing fire was 5% contained.
The local fire departments are most concerned about the dry conditions and heavy winds, which have caused and may continue to cause the fire to quickly spread in multiple directions.  To increase the amount of both state and federal assistance, the Riverside County Board of Supervisors declared the fire to be a local emergency.  Luckily, no injuries related to the fire have been reported as of yet. To provide support to worried family members during this stressful time, Facebook alerted its users that a "safety check" feature for those near the fire has been activated as a way to "check on friends or mark yourself safe." More structures, specifically in Corona, are thought to possibly be in danger as the fire continues. Anaheim Fire and Rescue tweeted out that there are "plans being developed for structure protection in Corona."
According to the Orange County Fire Authority, mandatory evacuations for about 1,500 residents have taken place due to the destruction of at least one building so far. These evacuations have caused uncertainty over if and when these residents will be able to safely return to their homes. Corona High School opened as a local shelter for the residents who were forced to evacuate.
As of Tuesday, the Corona Norco Unified School District has closed down almost all the nearby elementary schools, including Eisenhower Elementary School, Citrus Hills Intermediate School, Franklin Elementary School, Coronita Elementary School, John Adams Elementary School, Cesar Chavez Academy, and Prado View Elementary School. The District stated, "In working closely with the Corona Fire Department, the current school closures are closest to the active fire and are near the mountain ridge, they are also schools that would be most affected by road closures and have a higher risk of evacuation." All other schools have remained open, yet are said to have been placed on "mandatory inclement weather schedule" due to the current, poor air quality in Corona.
As for traffic, CHP Officer Florentino Oliveira said, "We're asking the public if possible to avoid the eastbound 91." In addition, the following roads have been closed, according to the LosAngelesTimes: Dominguez Ranch Road, Nicholas Place, Canyon Crest Drive, Boulder Drive, Suncrest Drive, Ridgeline Drive (south of Green River), Serfas Club (south of Green River), Montana Ranch Road, Del Mar Way and Trudy Way.

About the Writer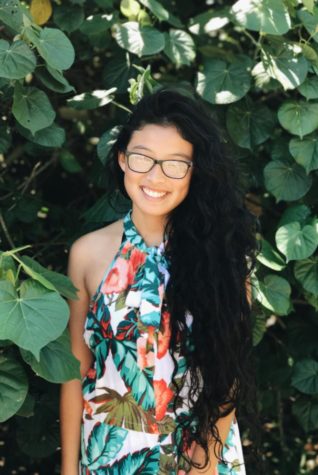 Shanelle Huynh, Staff Writer
Shanelle Huynh (12) is a new addition to the Shark Attack. In her free time, she loves to read YA novels, write poetry and short stories, and photograph her favorite moments. She is also Editor-in-Chief of the school yearbook and Vice President of the Silver Pen Writer's Society.