Las Vegas Leaves the United States Traumatized
Hang on for a minute...we're trying to find some more stories you might like.
The 1st of October should've been filled with excitement because so many things are coming up for us at our school, like homecoming and our spooky holiday Halloween. Unfortunately Sunday night, reports of a massive shooting at the Route 91 country music festival in Las Vegas.
Stephen Paddock, a 64 year old white man attended the event on the 34th floor of the festival was the guy behind the plan. Everything was going smoothly until the event was interrupted by the sound of gun shots. People who were at the concert thought they were fireworks or special effects at first, until they saw people screaming and running for their lives. Paddock wounded over 527 people and killed 59: a number expected to rise due to the amount injured in critical condition, while everyone else managed to scurry away.
Police are investigating the horrid incident and when searching his hotel room at Mandalay Bay, they found Paddock dead; they believe he killed himself and that he acted alone on this attack.  Authorities do not know Paddocks motives, but they are not calling the shooting a terrorist attack. Clark County Sheriff Joseph Lombardo says "We have to establish what his motivation was first," upon being asked why the shooting wasn't labeled as a terrorist attack. When authorities did further the investigation they found 23 weapons, multiple being rifles, in his hotel room; his car had material inside to make explosives, and his home in Nevada had at least 19 firearms, other explosives, several rounds of ammunition, and electronic devices.
Paddock was described as a high-stakes gambler, he was a retired man that had residence in Mesquite, Nevada with his last full-time employment period was over thirty years ago. Divorced twice, and with no known children, Paddock was characterized as a low key guy, not seeking attention. Investigators questioned his brother, Eric Paddock, and he said the last time he was in contact with his brother when Stephen asked how their mother was when Hurricane Irma happened. Eric also said "He was a gambler, that was his job," and continued to announce "He was a wealthy guy, playing video poker, who went cruising all the time and lived in a hotel room."
The world is in shambles right now, and people are acting out. A myriad of shootings, natural disasters occurring, and hate constantly being spread around in our country, wherever you go: please, be careful out there and stay as safe as possible.

About the Writer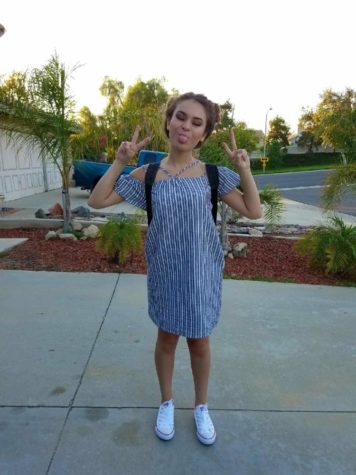 Alina Traverso, Staff Writer
Alina Traverso (12) is a first-year writer who enjoys writing articles about movies, the schools art activities such as the fashion show and plays. Outside of journalism, Alina is a very artistic and creative person. She loves drawing and painting, writing, and photography even in her free time! You could also see her out and...