Top 20 Best Eminem Songs
Hang on for a minute...we're trying to find some more stories you might like.
After his recent appearance at the BET Awards, Eminem popularity has, once again, skyrocketed. With his new album coming out November 17, I thought it was the perfect time to list the top 20 best Eminem songs.
#20 Love the Way you Lie
In this song, Eminem describes the struggles of being in a dysfunctional relationship, alluding to the hardships in his marriage with his ex-wife, Kim Scott. With the chorus delivered so beautifully by Rihanna, this song definitely deserves a spot on this list.
#19 Beautiful
Em sends a powerful message to people in this song, urging people to see their own beauty and to ignore the haters who think otherwise. He raps "I'll be you, lets trade shoes" as a way to show that he doesn't have the best life either.
#18 When I'm Gone
One of the most heart-warming songs that Eminem has released, "When I'm Gone" has Eminem rap about how his young daughter Hailie felt about her dad's popularity. Eminem explains that Hailie felt like she never had time to be with her dad because he was always on tour.
#17 Rap God
Eminem's world record come's from this song. His astounding 1000+ words earned him a more recognition and respect. Many had tried to copy him and most have failed. As the leading single on the MMLP2, "Rap God" is a great display of Eminem's talent for rap.
#16 Kill You
Eminem explains what would happen if he is messed with in "Kill You". In those five minutes, Eminem shows his darker side; however, he does it with such cunning that the song is nothing but intriguing.
#15 Not Afraid
Here, Eminem talks about his recent prescription medicine overdose and his alcohol addiction. He apologizes to his fans for being unable to perform and for not being well. The music video for "Not Afraid" currently has 1 billion views on YouTube!
#14 Rock Bottom
As a young father, Eminem has had a very hard life growing up. In this song, Eminem raps about how it feels to hit rock bottom. He says it changes you, desperation takes over, and the feeling can lead to crimes and depression. It is the most serious, honest song on the SSLP.
#13 Like Toy Soldiers
This is also a very serious song based on true events. Eminem raps about his previous feuds with rappers Ja Rule and Cannibus. The music video displays Eminem's longtime friend, Proof, getting murdered, and at the end, shows pictures of other rappers taken by rap violence.
#12 'Till I Collapse
Eminem's hype song, "'Til I Collapse" has a great beat that is masterfully mixed with the chorus from the late Nate Dogg. This has become one of Eminem's most popular songs.
#11 White America
Here, Em argues that people have never had a problem with other rappers saying the things he says but ever since he debuted, parents and critics began to "put these lyrics under a microscope". Eminem also explains to parents why their kids are such fans of his work, while also attacking the government for judging him.
#10 Guilty Conscience
Featuring Dr. Dre, this track has Dr. Dre portray the good part of your conscience, and Eminem, the bad. The song explains three situations in which someone has to choose what to do.
#9 Sing for the Moment
Sampling Areosmith's "Dream On", Eminem explains why he raps and what motivates him. He says he sings for the kids that have nothing or that have gone through bad times. He also attacks the media for blaming his music for youth violence. Here, Eminem successfully manages to make a very inspirational song.
#8 Cleanin' Out My Closet
This is a very difficult song to listen to without feeling emotional for Eminem. Throughout this song, he tells his mother how he felt about her, and recalls the things she did when he was a child. Eminem uses the phrase "Cleanin' Out My Closet" as a way of saying he's had enough.
#7 Marshall Mathers
In this celebrity takedown, Eminem disses multiple celebrities, including the Insane Clown Posse, Britney Spears, N-Synce,Vanilla Ice and Ricky Martin. The songs delivers some great roasts that are sure to surprise you.
#6 Role Model
In this song, Eminem mocks multiple public figures, normally seen as role model. He also disses himself, saying he's dumb enough to ask for a date with Lauryn Hill. This 3 minute song has a hard tone, and is constantly entertaining throughout.
#5 The Way I Am
Another savage song, Eminem describes how people try to change him, or tell him that that the way he is is bad. However, Eminem announces that he will not change his ways and that people need to deal with it.
#4 Stan
One of his most well-known songs, Eminem paints the life of a crazed fan. His constant need for attention from Eminem drives him to drive off a bridge, killing himself, and his pregnant girlfriend. It is emotional and sad, but surely worth a listen.
#3 My Name Is
"My Name Is" is the song that started it all. The first track on the SSLP, his debut, and his most quotable song, Eminem jumps on the scene in a big way. With his aggressive verses, Eminem delivers what is considered to be the best rap song of 1999.
#2 Without Me
After two years of absence from the rap scene, Eminem announces his return in "Without Me". He raps that the world is boring without controversy from him. Em delivers a hilarious song with multiple disses to suit anyone's expectations.
#1 Lose Yourself
"Lose Yourself" is, of course, the number one song. Eminem raps as B Rabbit, his character from the movie 8-Mile. He raps about living in trailer parks and providing for his young sister, all while trying to make it as a rapper.

About the Writer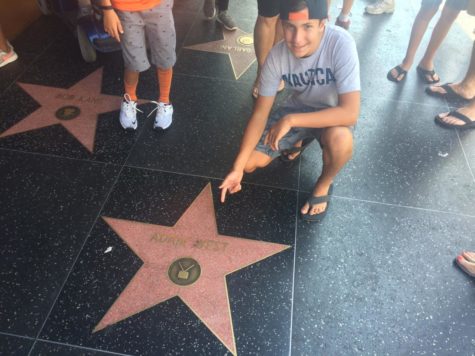 Lucas Pari, Staff Writer
Lucas is a freshman at Santiago High School. he enjoys reviews for things like books and video games but mostly movies. Going to the movies is actually...