Does the News Breed Fear?
Hang on for a minute...we're trying to find some more stories you might like.
Americans are more afraid now than ever. The answer lies in the fact that we live in a culture of fear – it's a concept stating that people may incite fear in the general public to achieve political goals. Aspects contributing to the culture of fear we live in include our dependence upon news sources and our infatuation with knowing what is going on constantly. There is a fine line between being aware of what is happening in the world and letting upsetting and shocking news frighten us. Technology has made it much easier to be informed – one can simply go on social media sites like Twitter and get information – although one should question the validity of the source.
Everyday, the news presents depressing tragedies and it's very rare to turn on the news and see a heartwarming story that comforts people. The news almost always has the opposite result – it incites fear in us. The news covers important stories nonetheless, but they usually are about death, shootings, robbery, sexual assault, and drug scandals. Constantly hearing about the negative events that happen everyday in the world places the American public in a state of fear.
Barry Glassner, who wrote and published the novel "The Culture of Fear: Why Americans are afraid of the wrong things", states in the introduction, "Politicians, journalists, advocacy groups, and marketers continue to blow dangers out of proportion for votes, ratings, donations, and profits." America is a capitalist society, Americans will make money off of anything possible, and in this case – America is profiting off of our individual fear. The news breeds fear, because without it, Americans wouldn't know of the devastating events that occur in the world unless it was experienced personally. The culture of fear manipulates human's emotional bias to further their own agenda. When Americans are in a state of fear, or think their life is in danger, they will be more inclined to take action. For example, if the news has been warning that there is going to be a monstrous natural disaster, natural instincts will tell people to take the necessary measures to protect themselves. And in this case, in order for people to be protected from a natural disaster, they will have to spend money to acquire vital resources such as food, water, shelter, and possibly relocation. Recently, at Santiago High School, there was a rumor being spread that someone had threaten to shoot up the school. This rumor that was originally heard on social media resulted in many students being pulled out of school for the day due to the concern of their parents. The principal did inform the students it was only a rumor, and the school had communicated with the Corona Police Department to assure the safety of the students and the school. However, all this unnecessary fear was wreaked onto the students because of news. The news remains an imperative tool of our society, and provides significant information and events everyone should be aware of. Although, the news sources and validity of the concern or event should be investigated before allowing fear to take over rationality.

About the Writer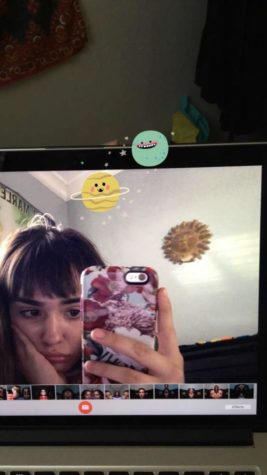 Christina Suarez, staff writer
Christina(12)is 17 years old, loves nature, clothes & old things.  She enjoys thrifting, reading, and spending time with people close to her in her...