When Will My Reflection Show?
Hang on for a minute...we're trying to find some more stories you might like.
For the past few generations in America, children have grown up watching predictable TV shows and movies centered around Hollywood's most heterosexual white actors and actresses. On every screen possible, fair-skinned characters filled the spotlight. There were no Asian characters, no Hispanic characters, no African American characters – unless, of course, they were the side characters that were composed strictly off of offensive stereotypes. The children that grew up with only blonde, blue-eyed Cinderella, and Prince Charming as models have now begun to realize the unequal nature of media representation in America.
As technology has rapidly expanded in the recent decades, media has become an integral part of society serving as a place of entertainment but also information. People, children especially, are affected by what they see on the screens around them. In Huffingtonpost.com's article "Why On-Screen Representation Actually Matters" by Sara Boboltz and Kimberly Yam, the effects of what Nicole Martins of Indiana University calls "'symbolic annihilation,' which is the idea that if you don't see people like you in the media you consume, you must somehow be unimportant" are discussed. Many sociologists agree that not seeing characters similar to one's self within the media can significantly impact the images and emotions we have of ourselves. When we cannot personally relate to what and who we see on TV, we begin to think of ourselves as different and perhaps even less valued.
Media representation is one of the easiest ways to continue systematic oppression and racism, therefore, it must be stopped. Thankfully, more and more people have begun to speak about and against it. One by one, casting directors, production companies, screenwriters, actors, and actresses have started to work together to produce the most diverse TV shows and movies that Hollywood has seen in a while, if not ever. Movies such as "Black Panther" have proved how much having a primarily all-black cast can affect black communities.  It has paved the way for upcoming movies that feature even more minorities such as "Crazy Rich Asians" which will have a primarily all-Asian cast and premier in August of 2018. TV shows such as "Jane the Virgin" have implemented Latino culture in a way that is meaningful, rather than stereotypical. Yet, most importantly, companies such as Disney Channel, which have an immense impact on today's youth, have also jumped on board to support rising representation. The show "Andi Mack" features an Asian main character with one black best friend and one gay best friend.
All of these prime examples of proper media representation have been welcomed with incredible support from the targeted communities as well as other minority communities. With these characters and stories being displayed on the screen, there are children everywhere looking at the color of their skin and their cultural backgrounds prouder than ever, instead of ashamed. We, as a country with vast media presence, have made great progress in media representation and will hopefully continue to do so in the future.

About the Writer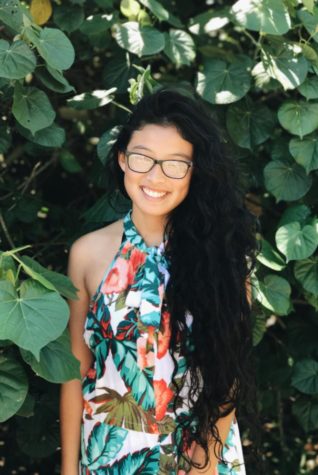 Shanelle Huynh, Staff Writer
Shanelle Huynh (12) is a new addition to the Shark Attack. In her free time, she loves to read YA novels, write poetry and short stories, and photograph...