Would You Buy a Phone That Folds?
Hang on for a minute...we're trying to find some more stories you might like.
Imagine being able to fold a tablet into the size of a phone – a device nicknamed a "phablet".
Now, imagine carrying a brick to school.
Various phone companies, such as Huawei, Samsung and other Android producers, have released or announced new models that have screens that fold in half. It's a shame that they only fold in half, otherwise I'd eagerly buy one solely to fold it into an airplane. It seems as if they anticipate high demand for such models, although I am doubtful that their expectations will be met.
The whole concept of a folding phone seems more like a novelty rather than something that the public will actually need. It seems as if it would be fun to fold a phone, obviously, but is the feature truly necessary? Although it does bring benefits, there are hindrances that come with a folding phone.
1. It would add to the weight of the phone.
Think about it. A tablet weighs the average of 400 grams. A phone, of today's average size, weighs around 150 grams. A phablet is bigger than a phone yet smaller than a true tablet, bringing its estimated weight to 200 grams. That's a potential 25% increase in weight. Is a bigger screen worth the extra effort required?
2. The phone won't fit as well into one's pocket.
Well, the whole point of a folding phone is to allow for one to easily carry around a tablet-sized phone. While it does help one carry a tablet, it doesn't help one carry a phone. Guys might not have any problem with carrying the larger-in-thickness phone, yet girls, on the other hand, most likely will, with their tiny to non-existent pockets. Girls typically put their phones in their back pockets, as they're the only pockets that can fit a phone. A bulkier device might not fit as well into a back pocket, and the added weight might even accidentally drag down one's pants. That, most certainly, is something that no one wants.
3. The durability of the screen is questionable.
There's not much information on how durable folding screens are. Will the phablet have to be replaced within a year? Will it retain high sensitivity? With all the uncertainty, it's clear that we'll all have to simply wait until the devices get released and YouTubers perform durability tests. Hopefully, they don't crack in half if you fold it too quickly.
4. What kind of phone case will be available?
The phone cases would have to fold as well, unless you just buy two different cases for each "form". That, however, would be extremely impractical. If the cases must fold, what options are you limited to? Perhaps the case will have to be entirely made of a bendable, rubber-like material, or just the folding part will be. One may have to forsake their favorite type of case, and therefore potentially risk the protection of their device, when using a folding phone. Wallet cases, for instance, would have to undergo a major redesign. One must consider that popular phone accessories, such as PopSockets, might not work as well on a phablet.
5. Can screen protectors be used on them?
Just like their namesake, Gorilla Glass screen protectors might as well be extinct. Obviously, tempered glass screen protectors don't bend very well. Will two separate screen protectors, one for each half of the screen, be used? That, of course, would leave an embarrassing gap in the middle. Perhaps a new kind of screen protector will have to be developed, but this may place folding phones at greater risk. Greater risk equates to my personal favorites: expensive repair bills.
6. The price might not be worth the convenience.
Samsung's new folding phone, rumored to be called the Galaxy F or Galaxy Flex, was previously estimated to be sold at a price of $1,800. Today, one can get a good phone for anywhere from $600-$900, respectively. Paying double for a function that you might not use as much as you think? Is it really worth it? Maybe I should ask Buzzfeed. As a student that's about to enter debt from college, I can most certainly declare that I will not be throwing away my money on a phone-tablet that expensive.
It's expected that phablets will become slimmer, have a wider variety of amenities, and improve performance with time. Then, perhaps, I'll buy a phablet (assuming that they're not $1,800). Maybe they'll become as popular as today's smartphones, and become a piece of technology that we adopt into our lives. It's even possible that non-folding phones will be pushed out of production, as the folding craze grows. Until these issues are addressed, however, I must admit that I am not a believer in the phablet.

About the Writer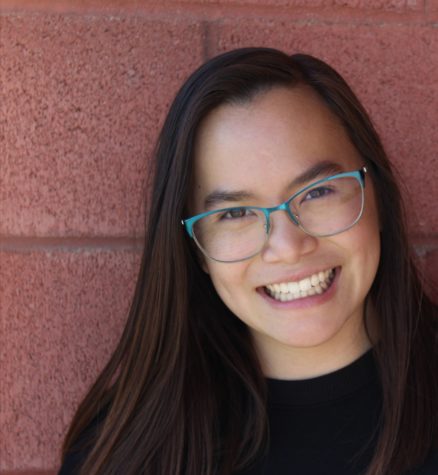 Phoebe Reiter, News Editor
Phoebe Reiter (12) is a senior who is fascinated in writing about the world around her- whether it be what's happening at school or in the world. Outside...