Archenemies by Marissa Meyer
Marissa Meyer's latest Young Adult novel, Archenemies, was released on November 6, 2018. This thrilling continuation to the Renegades trilogy illustrates Adrian and Nova's public lives as superheroes, their soon-to-be-revealed secret identities, and their budding new romance. With all these possibilities in store, fans eagerly counted down the days until the highly anticipated release.
This book certainly is a hit and is not Marissa Meyer's only bestselling novel. Meyer is well known not just for the Renegades series, but also for the four novels and two sequels/prequels in the Lunar Chronicles, the stand alone novel Heartless, and her two collaborative analogies on historical fiction and fairy-tale villains. The 34-year-old novelist can undoubtedly be considered as an accomplished author, for she has written several popular young adult books in an incredibly short amount of time. Her first novel, Cinder, was released in 2012. Her latest work, Archenemies, came out just this year. Marissa Meyer has published a total of 9 successful novels in the span of six years, and that doesn't even include graphic novels or collaborative analogies.
*Spoilers Ahead*
Aside from Marissa Meyer being a well accomplished author of her previous novels, her latest work, Archenemies, certainly exceeds all expectations. It continues with the two main characters, Nova and Adrian, who are both living mysterious double lives. Nova, secretly known as Nightmare, is part of a villain organization known as the Anarchists, that strives to bring an end to the Renegades' control on the city. Meanwhile, Adrian protects the city as the hero, also known as the Sentinel, who doesn't obey any of the Renegades' laws, but still performs good deeds for the city's overall well-being. Both characters have their own distinct ways of bringing about change, but are also willing to break laws and conceal themselves from their family and friends in order to do what is ultimately right. Despite Adrian and Nova's similar goals and ambitions, they withhold their identities from one another. Now that seems like a pretty simple story-line to follow, but here comes the confusing part – Adrian hates Nightmare because he thinks she killed his mother, while Nova hates the Sentinel because she believes that he is the Renegades' lapdog despite his numerous actions that prove otherwise. Don't think that's bewildering? Well, it gets worse. As superhero teammates and young lovers, Adrian asks Nova for help to reveal Nightmare's identity, while Nova uses Adrian to learn more about the Sentinel and how to overthrow the Renegades. While all of this is happening, Adrian and Nova grow closer together and become a couple at the end of the novel. This is altogether quite confusing and rather difficult to explain.
Overall, Archenemies can best be described as an intricate tongue twister of a story-line. While the heroes' situation was certainly baffling, the novel was expertly written with plenty of elevated diction and illuminating details. Each chapter left the reader craving more and more of the character's charming personalities, complicated relationships, and their altogether exciting experiences.
Meyer's third novel in this series, and conclusion to the Renegades trilogy, has yet to receive a release date or even a title. Fans are anxiously awaiting the last book, which will hold the outcome of several key topics such as Adrian and Nova's relationship, their obscure identities, and their unlawful rebellion against the government. With few hints surrounding the closing book, all Renegade devotees can do is theorize and wait in agony for the next release.
If you want to learn more about Marissa Meyer and her plethora of novels, visit her website at www.marissameyer.com, where you can find the author's social media, history as a writer, reader-made fanart and fanfiction, news about upcoming books, and many other interesting links and announcements.
About the Writer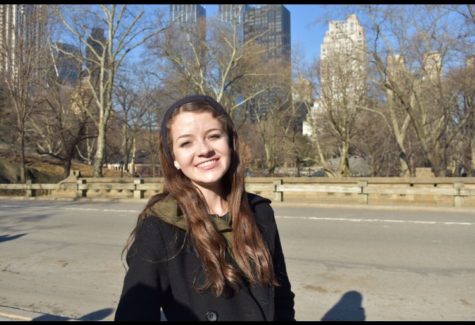 Madison Castello, Op/Ed Editor
Madison Castello(12) is thrilled to finally be in her senior year at Santiago as well as her third year in journalism. In her free time, she enjoys reading...