SGC Restaurant Review
113 E 6th St, Corona, CA 92879
Mon

11:30 am

 – 

2:30 pm




5:00 pm

 – 

10:00 pm

Open now

Tue

11:30 am

 – 

2:30 pm




5:00 pm

 – 

10:00 pm

Wed

11:30 am

 – 

2:30 pm




5:00 pm

 – 

10:00 pm

Thu

11:30 am

 – 

2:30 pm




5:00 pm

 – 

10:00 pm

Fri

11:30 am

 – 

2:30 pm




5:00 pm

 – 

10:00 pm

Sat

1:00 pm

 – 

10:00 pm

Sun

1:00 pm

 – 

9:30 pm
The atmosphere of SGC is very family-friendly and is perfect for celebration birthdays, milestones, and many more occasions. My first time at SGC was very eye-opening because I used to only see as a hole in the wall restaurant when I walked by, but was pleasantly surprised upon entering. The restaurant is kept nicely and has well-mannered employees. I would recommend going to the restaurant on Saturday nights because there a quite of few of people and you are sure to get the feeling of a nice and busy restaurant. It is the best when all the cooks are at each of the station so you can see what other cooks can do, along with your own.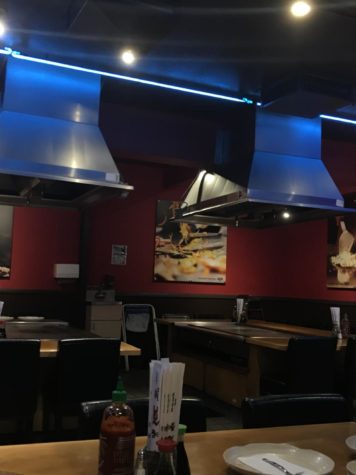 The restaurant has two sides that they share. The left side is teppan while the right side is sushi. They offer all you can eat sushi, however, if you would like to eat sushi while sitting at the left side you can still order it, but you will be charged by roll. I think that the two sides is really smart of the business. From personal experience, I have only eaten at the teppan side. Having the choice of both is very nice because you can choose on the occasion that is being celebrated or your mood that night. I appreciate that when you get seated down at a table, it has already been wiped down before you sit and everything is extremely clean and well-kept.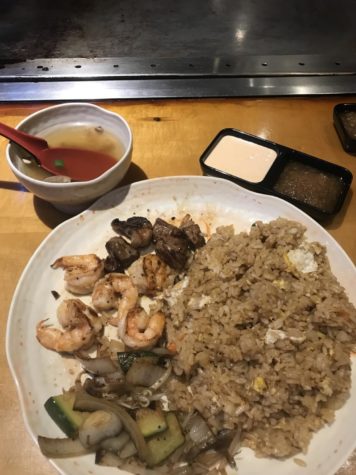 Normally, when I eat at SGC, I order the Hibachi New York Steak, which features steak cooked how you like, fried or steamed rice, cooked vegetables, and your choice of shrimp, scallops and lobster/king crab legs for an extra $8. I also always order a California Roll. For appetizers, I like to order edamame ($3.95). If you attend the restaurant's teppan side with another person, I recommend only ordering one entree. The amount of food and rice usually runs large so one order is more than enough for two people. I would say that the quality of the food was quite alright, it can always be better, but it cannot be worse – or any less fresh than it already is. If you look at the picture above, you will see two sauces. If you add those sauces to the fried rice then it will add an amazing taste to it. The steak and shrimp were seasoned well, but I can say that they can be a bit more tasty with the addition of the sauces. The price of the entree was actually a decent price for what it came with. Normally a plate like that would cost a bit more than it did.
A negative experience that I have encountered is that the second time I went, my party had to wait about 20 minutes or more for the chef to come out. Our waiter was not that attentive as well. For example, we had to wait a while for our drinks and a while to put our orders down. Another thing is that the chef seemed rushed while cooking which resulted in the food taste a bit overcooked. I can say that the service almost depends on the day you go, but hopefully, it improves the next time I visit.
Overall, I do recommend SGC as a place to go out and eat. Although it has its flaws, I do think that the business will improve in the future. I do hope that when new employees are hired they are trained a bit more than the employees now to be more attentive. The menu does have a variety so there is a chance to experience something new each time you attend and there is something for everyone, even the picky eater in the family!
I give SGC four out of five stars.