Seven Seas Thai Cuisine – Restaurant Review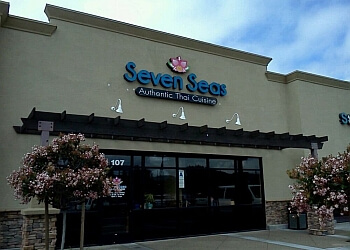 Good food is something one longs for without even knowing; imagine having a go-to place to satisfy this longing. Without further ado, conveniently located six minutes away from Santiago High School at 1525 E Ontario Ave, Corona, CA 92881 is Seven Seas Thai Cuisine – a great place to enjoy the authentic cooking in Thailand, a place known for preparing dishes with an emphasis on the aromatic and spice aspect of food. They offer a wide variety of Thai food – from soups, salads, poultry, and pasta. Some of the entree choices consist of, more specifically, pad Thai, pho, and curry, which become very versatile with the meat options and flavor you can choose from. The hours keep the place customer-friendly, open 7 days a week from 11 am to 10 pm. This unique restaurant has continued to grow in popularity as more word gets out.
From the get-go of my own personal experience, parking had to be the worst thing I endured, if anything; the reasoning for this may have been the timing (dinner time) when everyone is out and hungry. Although we weren't 10 steps from the door, the small walk to the restaurant wasn't bad and in fact worth it. On my first impression, Seven Seas has a welcoming atmosphere and wastes no time to get you seated and situated. As you enter, you will notice the feature of a large fish tank, which really adds character to the place and keeps kids occupied if you wait for a short time before being placed at a table. The lighting was suitable in the way that it wasn't uncomfortably dim or overly bright for a relaxing experience, as Goldilocks would say, "it was just right." Although the place felt crowded, aside from how busy it was, it didn't feel claustrophobic at all. I noticed big family dinners taking place, sizing up to about 10 people each and there was no issue by it, in fact, I felt as if the restaurant was a good pick for such occasion. If there was anything that it lacked, it would be the personal touch that you may get elsewhere, but it definitely is a welcoming environment which corresponds with your meal.
Ordering food is the best part about Seven Seas because the portions are large and easily shareable depending on how much you eat. Through the process of getting food, I experienced good service, and I feel like it came out as soon as I ordered with no problems. My meal consisted of the pineapple fried rice with chicken (to share), sweet chili wings, and orange chicken – pictured are the pineapple fried rice and orange chicken.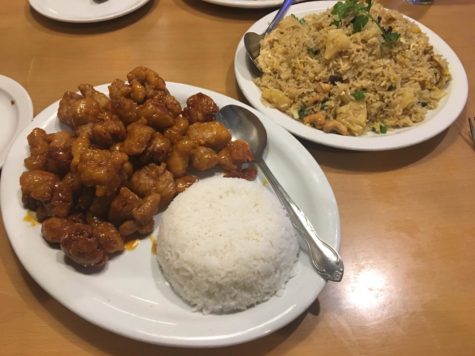 With so many good things to choose from, one really can't go wrong. Starting with the pineapple fried rice, it had to be my favorite out of the three dishes I ordered. The rice had a savory flavor but tricked your tongue with the sweet aspects of raisins and pineapple cooked in. This dish also included cashews that added a tasty crunch to it. The flavor was consistent with no weird first or after taste, but be careful because it is filling. Next, were the sweet chili wings; these hold a unique taste and texture that you can't find at just any wing place. The cooks prepare these bone-in, seeming to lightly crisp the edges and add a mouth-watering sauce that upon the first taste is as sweet as advertised and then continues as you eat to have a tolerable hint of spice that does not at all overpower them. The meat is moist and tender which really makes all the difference. Last, but not least, there was the orange chicken. With this meal, you can really taste the rich orange-peel sweet zest paired with a semi-light batter and fresh chicken. This was the crunchiest of the three meals but it was cooked to perfection. The pairing of the white rice was a way to calm down the rough flavoring, which is an add-on provided on request only.
Overall, I would highly suggest Seven Seas Thai Cuisine for its variety, service, and taste. It's definitely a great place to try it tonight or any other!