The Moral Dilemma of the Death Penalty
Hang on for a minute...we're trying to find some more stories you might like.
As of March 13th, 2019, there are 30 states that enforce a death penalty: Alabama, Arizona, Arkansas, California, Colorado, Florida, Georgia, Idaho, Indiana, Kansas, Kentucky, Louisiana, Mississippi, Missouri, Montana, Nebraska, Nevada, New Hampshire, North Carolina, Ohio, Oklahoma, Oregon, Pennsylvania, South Carolina, South Dakota, Tennessee, Texas, Utah, Virginia, and Wyoming. Although the death penalty is reserved for those who have been found guilty of a Capital Offense, the federal government has outlined a few specific capital offenses such as treason, murder, robbery, piracy, mutiny, hostility against the United States, counterfeiting, and aiding the escape of a capital prisoner that warrant consideration of the death penalty. Should the defendant be found guilty of committing a capital offense, the Jury would be offered, by the judge, the option between giving the offender death sentence or life imprisonment without the possibility of parole.
However, even then that seems somewhat vague. There are multiple ways in which the execution of the offender can be carried out and it can be grotesque. In fact, there are five ways to perform, a U.S. condoned, execution. They are Death by Lethal Injection, Electrocution, Lethal Gas, Firing Squad, and Hanging. All states have lethal injection as their primary method of execution, however only a total of 14 states offer at least one of these methods as an alternative method(s).
Although it sounds very nice and proper to say things like that, it quite revokes one's own sense of, or perception of, humanity. When we reduce human lives to statistics and crimes and punishments, we reduce them to something incapable of being perceived as human. We can never reduce human life to something indispensable. Furthermore, it should not be within the grasp of the Federal Government, or any government for that matter, to dictate what constitutes death, be it by Lethal Injection or any other forms.
About the Contributors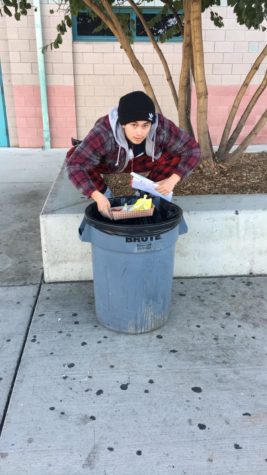 Adrian Garcia, Image Editor
Adrian Garcia (12) enjoys long walks on the beach, watching sunsets and more importantly watching sunrises. His favorite author is Ernest Hemingway, but...