Food Review: True Mediterranean Kitchen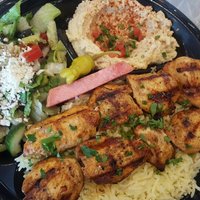 It can be a scuffle looking for authentic tastes, ones that remind us of home or maybe a reminiscing adventure to a different country. To end the search, at 469 Magnolia Ave, Corona, CA 92879 and only seven minutes away from Santiago High School, you can find True Mediterranean Kitchen in a small shopping center that also includes Golden Spoon, Starbucks, and a Mi Tortilla, bringing back tastes from Europe. Although it's not as big of a chain as the other three, it still holds its own. The hours remain the same through the whole week being from 11am-9pm, besides Sundays where they close at 8 pm. To start, parking can be a little crazy in the small lot with tight spaces and sometimes limited spots, but good food always seems to find itself in busy areas like that. From the outside, nothing really special stands out besides the small seating area they have and of course their name on the building, but upon entrance, the vibe is instantly warm and welcoming. You can rely on bright lighting and lots of natural lighting as well from the big windows facing the parking lot. The culture of True Mediterranean Kitchen is beyond their food as it features a wall filled with pictures of Greece, Italy, and Spain – noted that this is where Mediterranean food originated. Seating is seemingly always plenty for the fact that it is never too busy at any given time or at least when I've been which is usually around 3-5 pm. Don't be afraid if it's empty, I can assure that the food is good.
Moving on to the service – there a few things that should be pointed out. From multiple experiences at True Mediterranean Kitchen, I can personally say ordering is fast and easy; if no one appears at the register, there is a bell, which someone will rapidly answer to if you ring. The workers for me have been helpful with the menu and flexible to what I may or may not want. From there, you are welcome to sit wherever you'd like and wait. I suggest that if you are looking for a more personal service vibe at a sit-down restaurant to not go here, but this is definitely the location for a chill meal where you can relax by yourself or with the company of someone else. Waiting for food may feel like it takes a little bit, especially when you're hungry only because it kind of does here, but it's all fresh, tasty and worthwhile. When your food is ready, the staff will bring it to you which is really hospitable and adds to the experience. All in all, service is good, wait for food could be shorter, but it never disappoints!
Now to the taste and what everyone is waiting for. I ordered my favorite, the Chicken Breast Kabob Plate, which I highly recommend. This plate includes perfectly grilled chicken (8 pieces), rice, hummus, and a Greek salad. Starting with the main entrée of the chicken, I can still taste it now. The chicken is superbly moist and seasoned uniquely. The taste tingles your tongue with a zesty, almost lemon-pepper flavor and it is a highly addictive overload. Before I forget, I found zero fat while chewing. The chicken will definitely be the savory part of your meal. Next, you have the rice which the chicken rests on and almost shares its flavor with. The rice is much blander than the chicken and the other components to the delicious plate but it is essential to pull the meal together. As one, the rice isn't much and could be described as soft, containing a slight olive oil undertone, but I sure wouldn't go without it. Next is the hummus, which is exquisitely refreshing as well as tasty. They provide warm and soft pita bread to pair it with, which is the way to go. The hummus is definitely unique in taste with that olive oil and tahini Mediterranean style feature. If you can get over its smooth texture or are already a big fan of the food, this is one to take for a spin. The last thing you will find on your plate is the Mediterranean salad, which is topped with Greek dressing that is comparable to a vinaigrette, which if you had, is slightly bitter and catches you off guard, but not in a bad way and even a way that makes it good. To fill the small salad, they, of course, have the crunchy lettuce, peppers, onions, and feta – everything really pulls together nicely. When looking for something casual that'll make me happy yet healthy, I find True Mediterranean Kitchen to be the first pick.