Five Year Old Cancer Survivor Celebrates His Birthday by Donating His Toys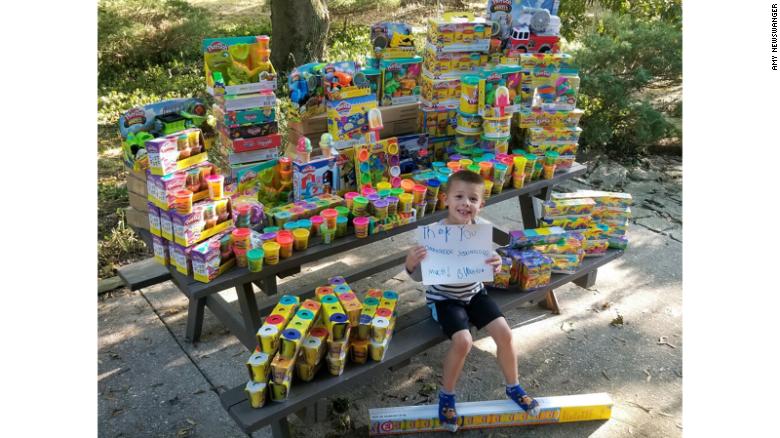 Ella Mago, Shark Story Editor
October 10, 2019
On October 1, 2019, five-year-old Weston Newswanger celebrated his birthday by donating all of the toys and gifts he received, including dinosaurs and Play-Doh, to Penn State Children's Hospital.
In November 2016, Newswanger was diagnosed with Rhabdomyosarcoma. Although he had been treated by the hospital, his tumor still proceeded to grow through the wall of his bladder, pushing against his colon. Treatments from the Penn State Children's Hospital resulted in Newswanger celebrating his remission from cancer for two years. When he was questioned what he wanted for his birthday, he replied, "I want to get Play-Doh and dinosaurs for the children in the hospital."
Both Newswanger and his family accomplished in gathering large amounts of toys in several weeks. The family reached out to others for assistance with the donations by word of mouth as well as through Facebook posts regarding his selfless birthday wish. The toys, such as Play-Doh, dinosaurs, and other miscellaneous items were all donated to the Child Life Program. The Child Life Program provides hospitalized children at the Penn State Children's Hospital with toys.
The Newswanger family collected and donated thousands of toys for hospitalized children. Both Weston and his family proceeded with their donation cognizant that it was the little things, such as receiving new toys, that made the hospital a little bit more entertaining for Weston during the period where he was undergoing chemotherapy.
Newswanger truly brightened the days, and even lives, of other children who have to spend their days at the hospital.