WandaVision: A Nice Change of Pace (Spoiler-Free Review)
With the Marvel Cinematic Universe expanding at an exponential rate, more and more shows are coming out to introduce and expand upon these newcomers. While Vision and Wanda Maximoff have been in the MCU for some time, there has always been more emphasis on a bigger story for Wanda and Vision. With Wanda having a very traumatic past which ended up being the reason for her powers, she has always been haunted by something. As for Vision, he was born in the sole purpose to be a vessel for Ultron, who would have most likely defeated the Avengers had Vision not come to their aid. While you may think this is a show exploring their pasts and coming to realization with what happened, it is far from that. Most are not a fan of the show for the sitcom recipe that it follows, but I am here to convince you otherwise.
Wanda was seen last in Avengers Endgame where she almost single-handedly defeated Thanos. Sadly, Vision's life came to an end when Thanos retrieved the Mind Stone, which is what made Vision who he is. The story of WandaVision takes place not much after the events of Endgame, and this is far from your traditional Marvel series. The events of each episode vary, jumping from decade to decade starting in the 50's. As of the most recent episode, we are in the realm of a 90's. The show begins by showing the everyday lives of Wanda and Vision as we see Vision having to blend in as another human, and Wanda having to hide her powers. While they yearn to lead a normal life in the small town of Westview, they still have to hide their abilities from the rest of the town. To seem "normal", they befriend most of the residents and do what they view as normal. As the show moves on, we soon learn more about the "average" town of Westview and who their residents really are. It also starts to feel more like a Marvel series as it moves further and further away from the sitcom scene.
The cast of the show will be pretty recognizable to longtime watchers of the MCU as we see some familiar faces from previous titles. Of course we have the stars of the show Wanda played by Elizabeth Olsen, and Vision played by Paul Bettany. Others such as Kat Dennings who played Darcy Lewis in Thor, and Randall Park who played Jimmy Woo in Ant-Man and the Wasp. They retain their same characters as they attempt to fully grasp the situation at hand. In addition, some of the residents of Westview include Agnes played by Kathryn Hahn, Monica Rambeau played by  Teyonah Parris, and Herb played by David Payton. The casted actors and actresses play each of their parts very well which heightens the overall likeability of the show.
Overall, the show is a mix of comedy, action, and adventure. We take a journey throughout the show which leads us to the truth about Westview and how it came to be. With the first two episodes mainly being sitcoms, there is still plenty of action that revs up as the show progresses. If you are not the biggest fan of sitcoms, then the first two episodes might be a drag for you to watch, but it is worth it for what entails. In my opinion the sitcom episodes were still very enjoyable as it still tells the story and helps to understand what it is exactly going on. With the 6th episode releasing today, we still have a few more Fridays to look forward to more WandaVision.
About the Writer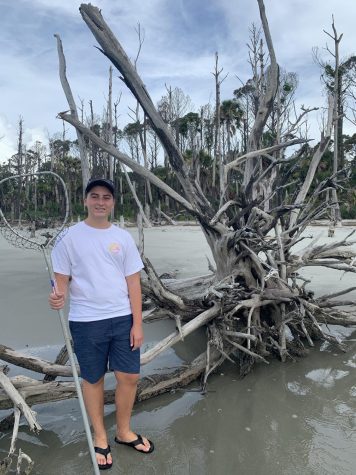 Carter Shoemaker, Staff Writer
Carter Shoemaker (11), a current junior at Santiago High School, plans to attend a four-year university after graduating. When he isn't stuck to a TV...