Shohei Ohtani: What Can We Expect in 2021?
As the 2021 spring training ramps up, the Angels are getting a good look at the return of two-way phenom, 26-year old Shohei Ohtani.
In December 2017, Ohtani signed with the Los Angeles Angels, after being pursued by nearly all the teams in Major League Baseball (MLB). He was quickly touted as a jack of all trades, having played as a starting pitcher, hitter, and occasional outfielder during his time in Japan. The first two-way star since Babe Ruth a century ago, Ohtani began his career with high hopes and expectations.
Although his first spring training was rough, with reporters claiming that he wouldn't be able to hold up the MLB standards, Ohtani proved his worth from the beginning. Throughout the 2018-19 season, Ohtani showcased his abilities by throwing an inimitable splitter on the mound and serving as a power hitter as a designated hitter. Right from his home debut, he homered in three straight games and maintained a perfect game through 6⅓ innings before allowing a hit in his second start. His skills only continued to grow as he honed his fastball, with velocities reaching into the triple digits.
Any concerns over Ohtani's ability to balance his roles as a pitcher and hitter were silenced when he retired nineteen batters over seven scoreless innings one week while continuing to regularly hit home runs over the season.
Unfortunately, Ohtani's rigorous schedule took a toll as he suffered Grade 2 UCL sprain in his right elbow, which escalated to an injury that needed Tommy John surgery. As a two-way player, however, Ohtani was still able to serve as a hitter for the remainder of the season, ending his first major league season as the American League Rookie of the Year.
Ohtani's sophomore season began in May 2019, and a month later, he was in top form, becoming the first Japanese-born player to hit for the cycle in MLB history. Over the next few months, he proved his slugging and base-running skills but was hit with a knee injury that forced him to prematurely end his season to get surgery. He finished the season batting .286/.343/.505 with 18 home runs, 62 RBIs, and 12 stolen bases in 106 games.
The 2020-21 season brought renewed anticipation to the Angels as Ohtani was cleared as a starting pitcher. His first outing did not go well, allowing 5 runs and no outs. Troubles in his right elbow continued as an MRI revealed a flexor strain. The COVID-19 pandemic cut the season short, and fans were left waiting to witness the two-way star in his best shape.
As we wait for the 2021-22 season, Ohtani's star power seems to be back in full force this spring training. The offseason has been one of reflection for Ohtani, who is focused on making things happen naturally. He got his weight back up to about 225 pounds, focused on strengthening his lower half, and tweaked his swing. During the Cactus League games, he's shown his versatility; two days after crushing a 468 foot home run over the batter's eye, Ohtani struck out five batters in 1 2/3 innings in his spring debut.
With his swinging mechanics sorted out and his pitching delivery smoother than before, the Angels can expect a season where a fully healthy Ohtani can use his two-way prowess to its full potential.
About the Writer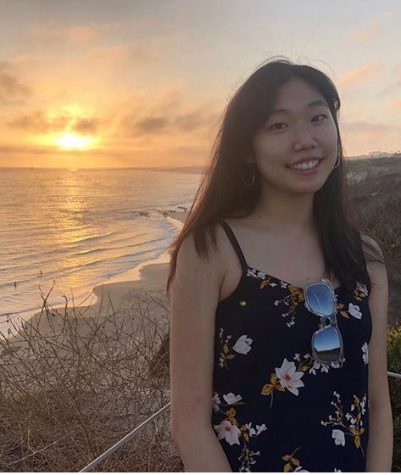 Precious Kim, Staff Writer
Precious Kim (12), a current senior at Santiago High School, plans to attend college as a communications and media studies major. Although required classes...