Who Was Colin Powell?
Greatness, sophisticated, brave, courageous, and black excellence is what Colin Powell will be remembered as. As well as being known as the first African American secretary for state, he was also a military official/soldier. While being an exceptional official, Powell was drawn to government. He served as chairman of the Joint Chiefs of staff. Being in this position of power, opened many doors for Powell's political career. In 2001, President George W.Bush chose Powell for the job of secretary of state. But all of his success can not be attributed to just his supporters, thanks is also owed to his family (parents). Colin Powell was born in Harlem, New York on April 5, 1937. His parents were immigrants from Jamaica. He spent most of his childhood in the South Bronx neighborhood of New York City.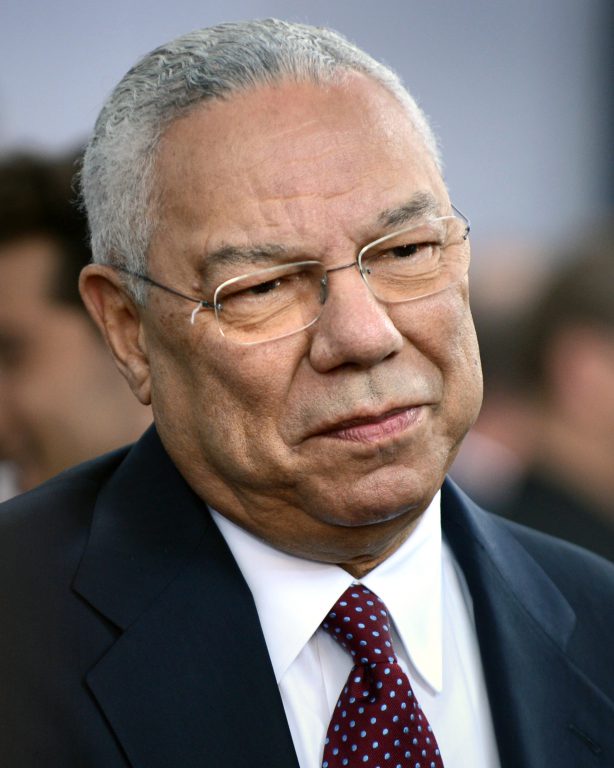 Colin Powell was a lot of things to a lot of people, but his family was one of the things that he always looked up to and vice-versa. Colin Powell had a son, 2 daughters, and a wife, Alma Powell. Because of the leadership and success he exemplified, Colin's family was eager to do the same. His Former wife, Alma, is a devoted advocate for the youth/children's rights. "Michael Powell followed in the footsteps of his father and joined the military after graduating from the College of William and Mary. After serving in the Army, Michael was appointed by former President George W. Bush as the chairman of the Federal Communications Commission in 2001," according to https://www.usatoday.com/story/news/nation/2021/10/18/colin-powell-legacy-first-black-secretary-state. So yes, the military and his secretary position was part of his success, but what really drew him towards success was his home front and how his empowerment towards the world influenced his family to grow and succeed. 
Did one ever wonder what mark Colin Powell set for not just the state, but for the entire nation? In under 4 decades, Powell was not just an impactful leader but was also a man of good faith. "As a man who was awarded the Presidential Medal of Freedom twice, Powell and his long list of accolades have raised the bar for the next batch of American leaders. In his 2014 commencement address at High Point University, Powell emphasized the importance of the youth in continuing America's role as a global leader," according to Colin Powell's Impact To American Society (poweroftheamerican.com). Powell was the type of leader to not just want the citizens of America to be cared for but wanted everyone(global) to be cared for.  He believed that it was up to the people to save the children/youth. He entrusted himself to be a good rep for fighting for the youth/people of the world and that is why Colin Powell has such a strong impact on the world today.
While Powell was an inspiring leader, an amazing father, and husband, he had to face some challenges throughout his life. Such as being a black man in office, especially being the first black man in office. In the 1950s, he was demanded to use segregated bathrooms, being a black republican, etc. "Powell was born to working-class Jamaican immigrants and used the American military to forge a path toward full citizenship rights that were not available to most Black Americans when he began his career in the armed forces. Long before he was the face of the George W Bush administration's effort that used false evidence to promote the Iraq war, Powell was charged with investigating the My Lai massacre, when American forces marched into the Vietnamese village of Son My and brutally slaughtered between 347 and 504 civilians in a four-hour period on 16 March 1968." There will always be obstacles no matter who you are, what title you hold, and even if you know people in a higher power, to hold a specific kind of class while facing all the naysayers, Powell did exactly that and more.
Colin Powell was one of the strongest men to walk America, but he never saw this coming, passing on from the covid-19 virus. Even though he was diagnosed with blood cancer, prostate cancer, and covid-19, that still did not stop him from trying to shape the world into the best version of itself. Colin Powell died on October 18, 2021. He was a retired general who served as the 65th U.S. secretary of state from 2001 to 2005. Colin Powell will always be secretary of state, he will always be missed/remembered for his amazing personality, his wit, his humor, and his leadership, his kindness, his intelligence, kind-heart, greatest father/husband and so much more. So, let's not forget who Colin Powell was and what he stood for!