Nikolas Cruz Pleads Guilty to Parkland School Massacre
Who is Nikolas Cruz?
Nikolas Cruz was a former student at Marjory Stoneman Douglass High School in Parkland Florida. In the past, Cruz had been expelled from Stoneman Douglass a year prior, following a pattern of threatening, frightening, odd, and occasionally violent behavior that began in preschool. At 19 years old he was the gunman that killed 17 students and a count of 17 attempted murders. 
What happened at the 2018 Parkland School Shooting?
February 14, 2018, was the day that this massacre took place. On that day Nikolas killed 17 people. 14 students and 3 staff members. And 17 others were wounded. Nikolas was armed with an AR-15-style semi-automatic rifle and opened fire at students and staff members that were preparing to go home that day. It all started when Cruz was dropped off by an Uber driver. Around 2:19 p.m., police said. A CBS affiliate reported that the driver noticed him carrying a huge black backpack. Cruz explained that he was going to music class. The driver described the ride as uneventful. The front gates were wide open for cars and school buses because the end of the school day was approaching. Cruz allegedly strolled in wearing a school shirt and carrying a backpack with more loaded magazines, a gas mask, and smoke grenades, according to authorities. Cruz was observed by Andrew Medina, a security guard and baseball coach at the school, who knew him as the "crazy boy," according to the Sun-Sentinel. Andrew Pollack, the father of one of the victims, is suing Medina for negligence. Cruz eventually entered the school and activated the fire alarm-and while students left he began open fire. Cruz stalked many classrooms and fired more than 100 rounds. From the first shot, the Sun-Sentinel reported that the massacre took five minutes and 32 seconds.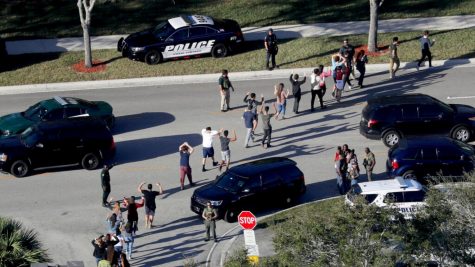 What does Nikolas Cruz address in the court?
Cruz was charged with premeditated murder on 17 counts. He confessed but pleaded not guilty in the shooting, according to police. His attorneys have stated that he is willing to plead guilty in order to avoid the death penalty. So on Wednesday, October 20, 2021, Nikolas Cruz apologized for his crimes after pleading guilty to 17 counts of murder in the 2018 Parkland school shooting and told the court "It's your decision whether I live or die."  "I am very sorry for what I did and I have to live with it every day. And if I were to get a second chance, I would do everything in my power to try to help others."Cruz also said, "I am doing this for you and I do not care if you do not believe me, and I love you, and I know you don't believe me but I have to live with this every day and it brings me nightmares and I can't live with myself sometimes, but I try to push through because I know that's what you would want me to do." 
What will happen to Nikolas Cruz?
Cruz's attorney had offered to have him plead guilty in exchange for a life sentence days after the massacre, claiming that doing so would save the community the emotional pain of having to relive the crime at trial. However, long-serving Broward State Attorney Mike Satz turned down the offer, claiming that Cruz deserves the death penalty and appointing himself as the lead prosecutor. So the guilty pleas will pave the way for a penalty trial, where 12 juries are expected to decide whether Cruz should be sentenced to death or life in prison without the possibility of parole. Hearings will take place in November and December, with testimony expected to begin in January.