Football Banquet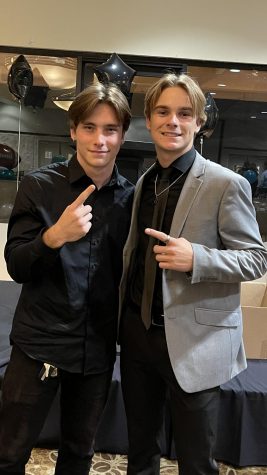 As some of us know, the 2021 football season ended a couple of weeks ago.  Just this last week, the football team had a banquet to celebrate our season.  Banquets can be kind of long and boring but not this one!  This banquet was prepared very well and it was held at the Eagle Glen Clubhouse.  It is a big room with lots of space, it was the perfect setting. I want to give a big thanks to Eagle Glen for letting us use this room and for providing food for us!
It took a little while for everyone to get there but after everyone got there and was seated, the great night began.  To start off,  Mrs. Tubbs decided she would make it more fun than usual and give us players a little game to play before everyone started talking.  She had us play a scavenger hunt game.  Teams were divided by whatever table we were sitting at.  So whoever was at our table, was our team. the rules of the game were simple.  Get someone from your table to bring Mrs. Tubbs whatever she says for them to bring her, and the first one to bring her the item wins that round. To make things as fair as possible, she was located at the center of the room in the front.  The table right in front of her obviously had a little advantage but it didn't matter because they would have to leave their table anyways to find the item.
To start the game off, she made it pretty easy by saying "the first one to bring me a bottle opener wins", so one person from each table got up when she said go and raced to find someone who had a bottler opener.  It's kind of tough because we don't know who has one,  but the parents were being courteous and would raise their hand slowly to get our attention.  Someone from another table won because they themselves ended up having an opener in their pocket on their key chain. So they didn't have to run to find someone who did.
The next item was more tricky, it was to find someone who had a purple sock, take off their sock, and bring it to Mrs. Tubbs.  This round took a little longer than the last round because it took a lot more effort and almost everyone had pants on.  My table won this round, the people sitting behind us got our attention and told us they had a purple sock, so we own that round. With a couple of rounds in between, then came the final round.  My table as well as 1 other table were tied for first place, so it was a showdown.  The last round was to bring Mrs. Tubbs, a baby picture of them (a player).  Luckily, one of my teammates had a picture of him and his siblings as babies in his wallet so he ran to the front and we won!
After the game was over, we ate, and then it got to the real stuff, celebrating each player and their accomplishments.  This part was sad especially when the seniors came up because it is sad to see all of the seniors leave.  after the awards were done, we did what we call the "senior walk".  This is where the players line up in a line, and the seniors walk down the line, hugging and saying bye to all of the other players and coaches.
It was an exciting, but sad night, and I am definitely going to miss all of the seniors.