Choir Sings this Holiday Season
According to the Santiago's Choir website, it explains that the members of the Choir, including myself,  are committed to excellence not only in academics and athletics but also in our Performing Arts Department. One performing arts program at Santiago High is our award-winning Choir program! There are four choir classes offered at SHS – Concert Choir, Baritone Choir, Treble Ensemble, and Madrigals.
According to the same website, the goal for students in the Choir is to achieve musical excellence through working together, learning good musicianship skills, and rehearsing each day to achieve outstanding performance. Choir at Santiago is an overall fun experience for any SHS student with an interest or passion for vocal music!
CLICK to find out more about the Choir teacher.
Mrs. Garrett is the number #1 choral director in all of California we have been SO proud of our choir teacher. The returners of Choir think Mrs.Garrett is more than our choir teacher, Mrs.Garrett is mostly our best friend and she is like a mother figure to the choir students. Mrs.Garrett helps us to get to the best self we can be. She pushes us when we sing because she knows we can do better. Mrs. Garrett sees the potential in all of us and the past 4 years for the returners will miss her as we go off to college.
The best times in Choir is when we all start laughing at the most random stuff and we always get Mrs.Garrett to laugh.  There are times where we do secret sister parties and White Elephant for Christmas. In Choir when it's time to get serious we start singing our set of music and we have to focus because we have to memorize harmonies, melodies, and rhythms.  As Mrs.Garrett starts directing us, we know it's time to get serious because we have field trips for competitions or showcases and she wants us to be the best we can be.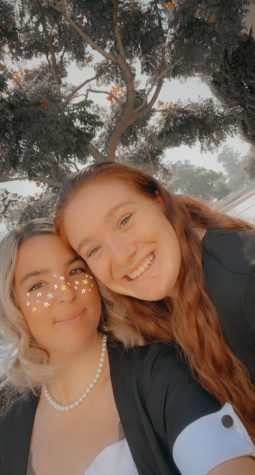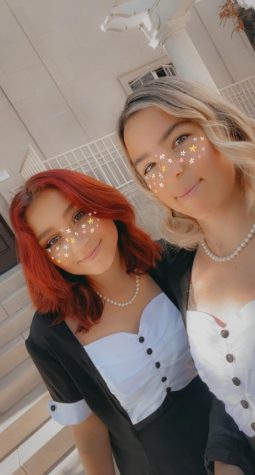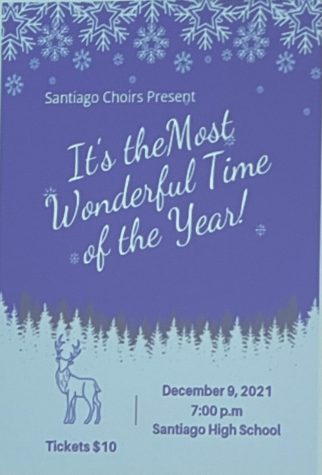 As the year 2021 comes to an end, the Santiago Choir program is putting on a production of ITS THE MOST WONDERFUL TIME OF THE YEAR.  On December 9th, 2021 at 7 pm all three choirs are preparing for the Winter Concert.  The Choir student's call time for this concert is at 5 pm.  The Choir students are singing 3 songs each and we have some very special solos from some choir students from Treble Ensemble and Madrigal Girls. Girls from Treble and Mads will be combining for some songs. The choirs are very excited about this concert.
The audience and the Choirs will have to wear a mask throughout the two-three hours of the concert and they ask you to please turn off your phones.  Mrs.Garrett is still deciding if the audience can take photos and videos with phones because at the last concert no photos or videos were allowed to be taken.
In other news, Treble Ensemble and Madrigals will be going to San Franciso soon! March 31st-April 3rd both Choirs are getting very excited for this special trip to sing with other schools and compete.  This will be our very first trip again since Covid-19 first started. We get to share this trip experience with the BOSS Band as well!