Scientists Arrested for Climate Change Protest
On April 6th, scientists across the world protested the United Nations announcement of a new climate report. According to Truthout, over 1,000 scientists changed themselves to oil-friendly banks' doors, blocked bridges, and occupied the steps of government buildings. This was a way for them to send an important message to the international community: the ecological crisis is worsening, and only a "climate revolution" will be enough to prevent disaster. 
In support of the Scientific Rebellion, N.A.S.A. scientist Peter Kalmus and three other environmental activists chained themselves to the J.P. Morgan bank in Los Angeles, California. They chose J.P. Morgan bank because it invests in the newest fossil fuel projects among all the investment banks in the world.  
"We've been trying to warn you guys for so many decades that we're heading towards a catastrophe, and we've been being ignored," said Kalmus."The scientists of the world are being ignored, and it's got to stop. We're not joking. We're not lying. We're not exaggerating." 
After hours of protesting, an estimated 100 police officers in riot gear detained and arrested the four chained activists. J.P. Morgan bank has declined to speak on the situation according to Business Insider and other news outlets. 
The Scientific Rebellion web demands present government and corporate are "grossly inadequate". The demand includes a list of worldwide reforms backed up by peer-reviewed scientific evidence and study that will effectively reduce the planet's accelerating destruction. After the Rebellion leaked the Intergovernmental Panel on Climate Change (I.P.C.C.) report for the year 2021. The leaked report stated, "Mitigation and development goals cannot be met through incremental change," and, "delayed action increases challenges to both economic and societal feasibility after 2030" Therefore according to the Smithsonian Magazine, about 1,000 scientists from 25 nations have utilized various kinds of civil resistance to protest this disturbing knowledge. Leading dozens of scientists to be arrested. 
Scientists from all around the world have heard how little time we have to reverse the devastating impacts on our environment and have chosen to demonstrate in order to persuade the public of the seriousness of the problem. The world's leaders must pay attention to the qualified and educated scientists who are attempting to demonstrate this astounding truth. "I'm taking action to urge governments and society to stop ignoring the collective findings of decades of research," said Dr. Rose Abramoff, one of the scientists arrested at the White House. "Let's make this crisis impossible to ignore."  
Scientists threw fake blood on the stairs of a government building in Madrid. They fastened and shackled themselves to a bridge in Berlin and they blocked the entrance to the Ministry of Economic Affairs and Climate Policy while they read from the IPCC report in the Hague.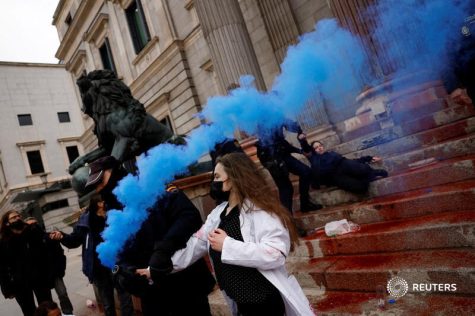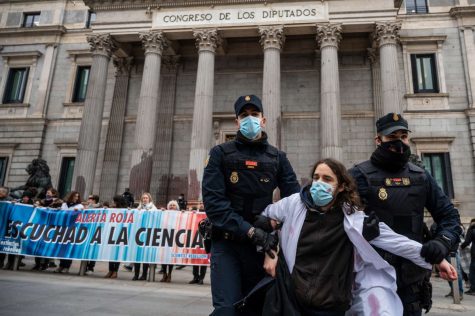 Some say this situation is like the movie "Don't look up" where astronomers are trying to warn humanity about a comet that will destroy humanity but in this case, it's scientists trying to warn humanity to just stop oil or we're going to be in danger in the next few years.  
Kalmus began posting on TikTok shortly after his arrest. In one of his early videos, he removes his lab coat and stands in a t-shirt in front of his garden, squinting in the sun. What was his message? It's not too late to prevent climate disaster, "but we'll need everyone's help, not just scientists, but also teachers, artists, historians, attorneys, and musicians"-to join the cause and get into "good trouble," as the late, great John Lewis put it. 
Peter Kalmus statements:
"If everyone could see what I see coming, society would switch into climate emergency mode and end fossil fuels in just a few years." 
"It's now the eleventh hour and I feel terrified for my kids and terrified for humanity. I feel deep grief over the loss of forests and corals and diminishing biodiversity. But I'll keep fighting as hard as I can for this Earth, no matter how bad it gets, because it can always get worse. And it will continue to get worse until we end the fossil fuel industry and the exponential quest for ever more profit at the expense of everything else. There is no way to fool physics."