Johnny Depp and Amber Heard; Why She's in the Wrong
For years now, there has been a discussion about who is in the wrong: Amber Heard or Johnny Depp. It is clear to me that Heard is completely in the wrong. From the beginning, there were stacks of evidence of her being an abusive partner. She is a woman who horribly treated and abused a man and then turned around and cried out that she was the victim. Every person that personally knew Johnny Depp came to his defense when Heard accused him of abuse, even his ex-wife and fiance. Amber Heard cost Johnny Depp his entire career on a lie crafted for her gain. 
Before the two started their relationship, Heard was in a relationship with artist and photographer, Tasya Van Ree. That same year, Heard and Van Ree got into an argument at Seattle-Tacoma International Airport in Washington, where Heard was arrested for physically assaulting Van Ree. This means that Amber Heard has already proven to have been a violent partner before her and Depp's relationship started. However, the charges were dropped when Van Ree said that there was a misunderstanding and said that Heard was wrongfully accused. 
In 2012, Heard and Depp start dating, after Depp and Vanessa Paradis publicly announced the end of their 14-year-long relationship. Heard and Van Ree split up at the same time. Later, in 2014, Heard was spotted wearing an engagement ring. And Depp confirmed the rumors of their engagement in an interview with The Daily Mail. In 2015, Johnny Depp and Amber Heard got married in a private ceremony. Then, in 2016, Amber Heard filed for divorce, accusing Johnny Depp of domestic abuse. 
Four days after Heard filed for divorce, she got a temporary restraining order against Depp. She claimed that on multiple occasions, while under the influence of drugs and alcohol, Depp has physically assaulted her. The divorce was finalized in 2017. 
Heard wrote an op/ed in 2018. In her op/ed, she said that she was a victim of abuse. In 2019, Depp sued Heard for $50 million for defamation over her Washington Post article. Depp says that Heard is not a victim but a perpetrator. In January, audio recordings of Heard hitting Depp were released. This alone should have been enough evidence against Heard, but Depp still lost the 3-week libel case. From there Johnny Depp was asked to resign from his role as Grindelwald in the Fantastic Beast movies.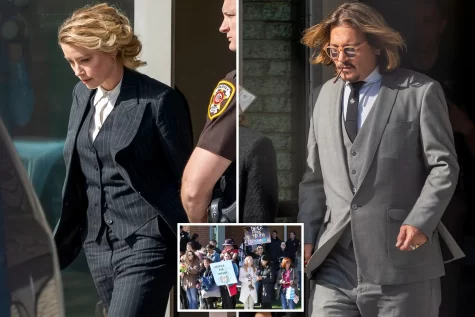 Those are the events that lead us to now. The trial started on April 11th, taking place in Fairfax County in Virginia. So far, Johnny Depp has said in his testimony that he has never struck Heard or any other woman. He tells the court that their relationship consisted of Heard continually verbally abusing him, as well as physical assault. 
Depp said, "It could begin with a slap, it could begin with a shove, it could begin with throwing a TV remote at my head, throwing a glass of wine in my face."
There was an instance in which Heard got angry over a meeting about a postnuptial agreement, so in retaliation to that, she threw a glass of vodka at Depp. The glass shattered when it hit his hand, severing the tip of his middle finger. 
Earlier in the trial, phone audios of fights between the two were listened to, and in them, Amber Heard says, "You didn't get punched; you got hit. I'm sorry I hit you like this, but I did not punch you. I did not f—–g deck you. If—–g was hitting you. I don't know what the motion of my actual hand was. But you're fine. I did not hurt you. I did not punch you. I was hitting you." 
This is the same woman who calls herself a public figure representing domestic abuse. She claims her role as a victim, relying on what she can pin onto others. On multiple accounts, her claims and stories do not align or completely contradict each other. She has lied after swearing an oath, to tell the truth, and nothing but the truth. She is a liar and an abuser, and she will not get away with it.