The LA County Fair Returns
The Fair Returns
Since the pandemic, the LA County Fair has been on a 2-year hiatus. This year the fair opened on May 5 and ends on May 30th. Normally the fair opens during summer so the transition from summer to spring brings cooler daytime temperatures to enjoy walking around the fair. With the fair taking place in May it also brings in many holiday celebrations, such as Cinco de Mayo, Mothers Day, and Memorial Day. And in honor of the fairs 100th anniversary from its first opening in 1922 it represents the theme "Back to our roots" that has been chosen this season. Walter Marquez the president and CEO of Fairplex said, "We are excited to welcome back our guests and vendors to what is certainly going to be a sentimental return to the LA County Fair," and "We've heard from guests how much they've missed the Fair. When the gates open in May, we will be back in the business of making memories." The Los Angeles County Fair is open from 11 a.m. to 11 p.m. Thursday through Sunday, including Memorial Day and Monday, May 30th the closing day. 
Entertainment
There are so many things to do at the LA County Fair. You have concerts, rides, zoos, and games. The concert schedule for this year is The Spinners, The Beach Boys, and other famous stars. NextFest will give indie musicians a platform. The famous Flower and Garden Pavilion will say "Cheers to 100 years" through its leafy displays. Animals will do what they do, pigs will run, and quirky competitions will charm, and knowing where to look or go next, as you think what you should eat or ride is all part of the experience. 
Food
The Cherry Kool-Aid Chicken Sandwich at Chicken Charlies is the most talked-about dish. The fair also appears to have a lot of Hot Cheetos in everything including a turkey leg covered with Hot Cheetos, rainbow-colored grilled cheese and street corn, deep fried peanut butter and jelly, vegan items, and many more.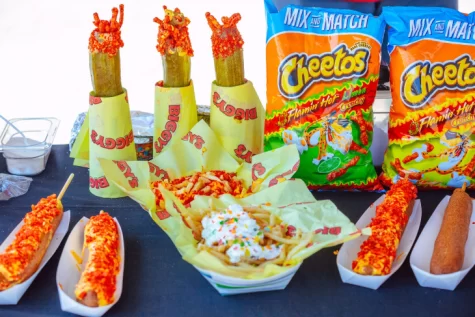 Stone age desserts are also a very popular bite at the fair, like "fruity pebbles funnel cake. Vanilla ice cream sandwiched between airy cotton candy rolled in fruity pebbles. Deep-fried Peanut butter and jelly sandwich rolled in fruity pebbles. A cannoli stuffed with cream and covered in a variety of sweets. And the funnel cake served with a heaping amount of whipped cream and covered with fruity pebbles."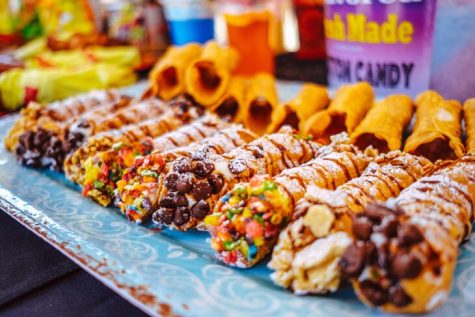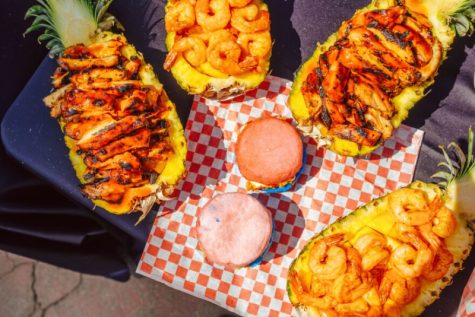 Animals
The Cal Poly Pomona farm animals have also returned to the fair. Over 130 animals have been transported to the Fairplex. The goats, sheep, lambs, and other animals made the trip for the first time since 2019 and will be part of the fair's programming. Guests may expect expanded petting zoo facilities and a newly open location for the well-known pig races to address crowd-control concerns. Walter Marquez said, "We're going to have livestock shows," and  "there's going to be a dress-up-your-animal competition where you get to be kind of like, twinsies with your animal."