YALLWEST Book Festival
YALLWEST Book Festival is a book festival located at Santa Monica High School. It is an annual event that took place this year on April 30th. Yallwest was founded in 2011 by Jonathan Sanchez of Blue Bicycle Books, along with authors Kami Garcia and Margaret Stohl, and is the largest YA (young adult) book festival in the world. Publishers and YA authors from all over the world meet up for signings and panels and other bookish events. The event is geared toward readers in the young adult and middle-grade levels. This year's festival had an excellent lineup of authors including but not limited to Victoria Aveyard, Tracy Deonn, Chloe Gong, and Tahereh Mafi. 
Our Librarian, Mrs. Olshewsky, has gone to YALLWEST four times now. She is the person that organizes for students from our school to go to the annual event. Santiago has sent students every year since 2018 (with the exception of 2020.) The event was canceled in the Spring of 2020 due to COVID, which caused a lot of disappointment among the people planning to attend. She says that "My favorite single event may be the Author Speed Dating." Students and other guests are seated at one of the many tables with open chairs. An author sits in the chair and engages in a genuine conversation with the other 6 or 7 people at the table. They talk about their works, the writing process, and other topics, and individuals around the table can ask them whatever questions they have. Every 10 minutes or so, all the authors stand and move to the next table, conversing with the group there, while a new author seats with the first group. It serves as an amazing chance for students to talk with the authors that inspire them.
Another amazing event that YALLWEST offers, is the YALLWEST SmackDown. Mrs. Olshewsky says that "It's a little hard to explain; it's part variety show, part game, talent show, and more. It's different every year." This year, the authors sang, played charades, read some writing they did as a kid, and did a huge finale with dancing and singing in the theater. 
I interviewed some students that went this year, asking them about their expectations, experience, and advice.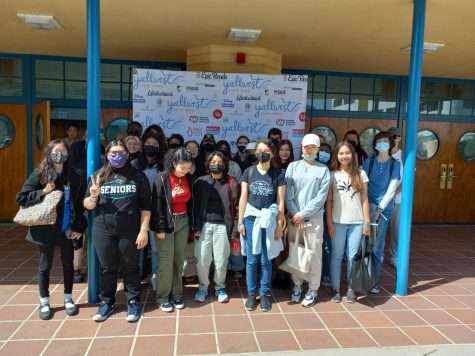 Mariana Santiago (11) said that "I was expecting something cozy and indoors." They were pleasantly surprised when they got there and saw it was outdoors. Turiya Sundaram (9) said that "My expectations going into the event weren't high but weren't low… however when I went it was amazing. My expectations were exceeded, to say the least." They said that their experience was wonderful, they were "lucky enough to hear about the writing process," and that, "My favorite part was getting to meer Tahereh Mafi." The author of one of their favorite book series, Shatter Me. Mahibah Jamal (12) said that their favorite part of YALLWEST was, "getting to know the authors and seeing them lip-sync to Material Girl during the SmackDown." Sherry Peng (11) says for students looking to go in the future, "I would recommend for students to check the event schedule on YALLWEST's website. By doing that they will have more opportunity to plan ahead of time." 
As for some of the authors that were present at this year's event, Victoria Aveyard has most recently published her book Blade Breaker, the second installment of her new book series. This series of the fantasy genre, with so much great writing and world-building. The book follows the story from different perspectives in this book, with each character playing a part in saving their realm as they once knew it. In beginning, there are four major characters that band together to stop spindles from tearing into their domain and threatening to destroy them. Three more characters join them later as they recruit more individuals to join a lost cause, and the seven of them go on to save what others are unwilling to save. There are some elements that are similar to her popular series, The Red Queen, that many readers enjoy. 
Tracy Deonn is a black author that made her debut in 2020 with the masterpiece, Legendborn. The book is a thrilling ya fantasy novel that follows the main character, Briana (Bree) Matthews. Bree Matthews' story follows her as she attempts to cope with her mother's loss. All she wants to do is leave her small town, so she enrolls in UNC-Chapel Hill's Early College. She discovers a secret organization descended from King Arthur and his twelve knights there. She realizes she has her own magic and must now decide whether it is worth battling for their cause. Bree had no idea she held magic before she moved to Chapel Hill, thus this came as a surprise. Not only that but learning that her mother's death was not an accident and could be linked to what she is seeing and experiencing is absolutely shocking.
Chloe Gong is a Chinese author who made her debut with her novel, These Violent Delights in November of 2020. Now she has released the second and final book in the duology, Our Violent Ends. The books are a retelling of Shakespeare's Romeo and Juliet with a Chinese lead. The main characters are Julliette Cai and Roma Montagov, who are the heirs of the two rival gangs locked in a blood feud that goes back generations. In the book, the two are forced to work together when their city is under attack by a madness that threatens the lives of its people. This book is impressively written, with so many twists along the way. 
Tahereh Mafi is most known for the Shatter Me series, which consists of two trilogies and five novellas and is immensely popular among YA readers. She has most recently released This Woven Kingdom, which is the first book in her new fantasy series. The book follows the story of Alizeh, whose status as the heir to the jinn kingdom has been lost to the passage of time. She's become a forgettable servant who goes to great measures to maintain her anonymity. Meanwhile, crown prince Kamran is hearing rumors of a prophecy predicting the king's death. What he doesn't anticipate is that the unforgettable servant girl with odd eyes will be the one to uproot her kingdom. Nobody knows what will happen next, but it will undoubtedly affect their lives.
It is encouraged that any book lover attends future events. The departure will return to 8:00 am next year and will return to school at 8:30 pm. If a student can't join for the full day, then they can still attend on their own. There is no cost to enter the festival and most of the events don't require tickets Ticketed activities are inexpensive, and if students let Mrs. Olshewsky know ahead of time that they'll only be there for part of the day, she can occasionally get an additional ticket for a student who won't be able to attend the entire field trip to the ticketed events.