Boy in The Box Identity Revealed
On February 25, 1957, a young boy was found on the side of Susquehanna Road in Philadelphia, Pennsylvania in a box. He was found naked and extremely beaten all over his body. Though he was very bruised around his body and physically abused he appeared to be cleaned and freshly groomed. This case has been one of the most famous unsolved murders in Philadephia. Since 1957 they have been looking for leads on this case.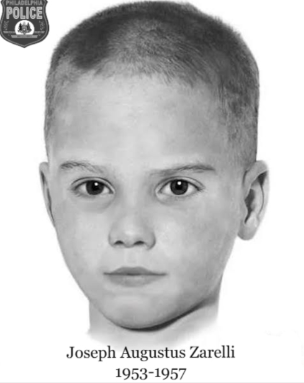 It has been 65 years since the discovery of this little boy and no one has been able to ID him. With newer technology coming out in recent years being able to ID an unknown person has become much more accessible. With both DNA technology and work from detectives, they have been able to find the identity of this young boy. 
The boy in the box's name has been revealed as Joseph Augustus Zarelli after six decades of being an unnamed kid. Police Commissioner Danielle Outlaw spoke about feeling sadness when thinking of this little boy not only because it was a child that was murdered but Outlaw also said: "because his entire identity and his rightful claim to own his existence was taken away". He was only recently four years old when he passed away from blunt force trauma. 
During the time when he was first found no one reported him missing which is why he was given the name "boy in the box". His body was buried at Ivy Hill Cemetery in Philadelphia. With his tombstone, he is referred to as "America's unknown child". 
Now with the information of his identification, we also know when he was born which was January 13, 1953. Investigators have also been able to know who the parents of Zarelli are as well as siblings. Their names have not been released to the public. 
Though there has not been anyone found responsible for Joseph's tragic death. Investigators are hopeful with the new information about Joseph's identity more leads of finding the person who did this to the then four-year-old will be found as well. 
Finally, four-year-old Joseph Augustus Zarelli's soul may rest in peace!