Potential winter storm heading for California
 As the winter time is coming up, the seasons are changing and it has been colder than ever in California. Many students have noticed how cold it has gotten in the mornings ranging from 50-60 degrees. Not only is this because it is December, but also on yahoo news, it has said that this all began in a storm that originated in the gulf of Alaska and moved over to southern California. David Sweet, a meteorologist with the National weather service in Oxnard said, "This is a very considerable storm and a lot stronger than the previous storms we've had this season." This is a huge factor as to why California's weather has drastically changed to chilling degrees. 
As we now know Southern California will be a frosty season for winter, and there are many reasons why you should stay safe during this time. Although it may seem that the weather is not a dangerous thing, many people are wrong. The cold weather could increase the chances of new health conditions due to the body losing heat very quickly when it is cold outside. This can cause frostbite, asthma, and COPD (chronic obstructive pulmonary disease). So it is important to stay very safe and be careful during this time to prevent any of these situations.
 So in order to stay safe during this time there are many things you can do. For example, some simple ones are: to wear a large thick jacket, drink/eat warm things like tea or soup, and lastly to be in a warm environment for some amount of time when you can. And although these are just some simple tasks they truly can keep you safe. Another quick factor Is layering, layering could be used as a fashion trend but it is also very helpful in staying warm like having two shirts on.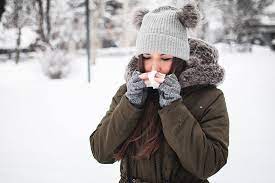 And lastly, it is very important that you try to cover all of your body as best as you can like your neck, head, and feet. We hope you stay safe and warm during this Christmas season and hope you have a great break.