College Football Championship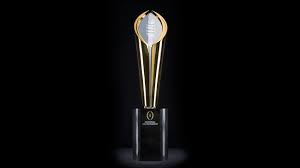 There have only been 64 undefeated teams in college football since 1936. The 2022/2023 team added their name to that list.
No. 1 seed Georgia beat No. 3 seed TCU 65-7 for the 2022-23 CFP National Championship on January 9th in Sofi stadium.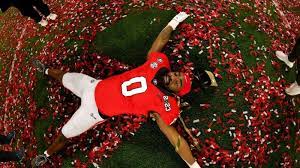 The win probability for the Bulldogs was 67 percent while TCU had a 33 percent chance of winning the game.
The Bulldogs got a 10-0 lead before TCU scored with a touchdown. Then out of nowhere the bulldogs scored 55 unanswered points to end the game and win a National championship. Georgia set the record for the most points in a Bowl Championship Series or College Football Playoffs title game and set a record for the biggest win in a BCS or CFP title game.
Heisman finalist Stetson Bennett tied a College Football Playoff record with six total touchdowns. Four of which were passing touchdowns and two of which were rushing touchdowns. The Bulldog's offense had a total of 615 yards. On the defense side, the Bulldogs held down TCU to 36 rushing yards and 3 turnovers all to Javon Bullard. Bullard, a sophomore at Georgia, had two interceptions and a fumble recovery. The Bulldogs were able to hold the TCU star receiver, Quentin Johnston, to a single catch for only 3 yards. Georgia is one of the few teams to win back-to-back championships in the College Football Playoff era. As well as being one of the first back-to-back championship winners in a National Football Championship in recent years!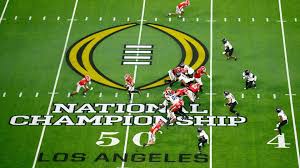 Georgia had to face the No. 4 seeded Ohio Bukeys in the semi-finals to move on to the National Championship. Before the game, the team lost fifteen players to the NFL draft. The Bulldogs had completed a drastic 14-point comeback in the fourth quarter to beat the Buckeyes 42-41. They won the game barely with a one-point lead to win the Peach Bowl. They won the Peach Bowl due to Ohio state's kicker missing a 50-yard field goal. The No.3 seeded TCU had to play the No.2 seeded Michigan Wolverines. In a game where almost everyone had a large belief that the Wolverines were going to beat TCU, TCU managed to come out on top with a score of 51-45 winning the Fiesta Bowl.
The CFP National Championship had one of the absolute lowest amounts of viewers, at a rate of 17 million. The viewing rate has never been lower than this since the start of the Bowl Championship Series era in the year 1999.
Texas Christian University was the first Texas team to go to a College National Championship. At the very begging of the year, TCU had not been ranked in college football. This has made them the second team to go to the College National Championship while being unranked at the beginning of the season.