Meet Next Year's ASB President and Vice President!
Meet Mya Alvarez and Carson Chambers
On March 24th, results for the 2024 year ASB Elections were announced. Mya Alvarez (11) won the election for ASB President and Carson Chambers (10) won the election for ASB Vice President. I decided to ask them some questions so we could all get to know them better going into the next school year.
Who are you?
Mya: Im Mya Alvarez, I'm currently a junior and I won the elections for ASB President!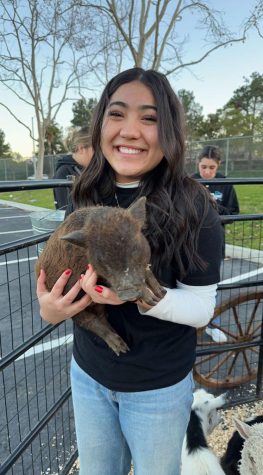 Carson: Im Carson Chambers, I'm a current sophomore, I'll be a junior next year and I won the elections for ASB Vice President.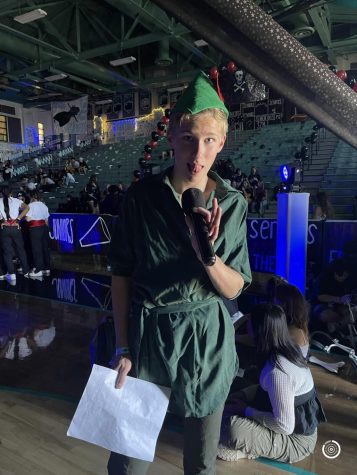 What made you want to run?
Mya: So, I've always wanted to be part of ASB, I finally got in sophomore year after applying during my freshman year and I was having the best time. We elections happened that year, and I decided to run for junior class pres. I remember in middle school I didn't run during elections because I was scared and then after, I regretted not running so, I thought to myself "Even if I do lose, I do not want to have that same regret". So I ran for junior class president, I was really nervous, I had a really good competition, but I ended up winning. That was a big boost for me so then I thought "Why not run again and go to the big leagues?". I decided to run again, still had really good competition, but we made it!
Carson: During my Freshman year, I was class President and this past year, I was on E-Board as ASB treasurer. I got the "Inside Scoop" already from that and I learned I love doing the extra leading of a class so, I wanted to step up a position. I wanted to go for Vice President so I could have a bigger role in leading the class, and be a role model so that next year I can work up and be ASB President. That's the end goal so, keep building up, keep leading the class, and keep doing what I love. 
What was the campaign process like?
Mya: I don't want to say horrid because that's me being dramatic but ..horrid. The night before election week, I was up in my garage up until one or two in the morning doing posters. I think with the campaign process, I feel like it's a lot easier if you have a theme. That way I base all my posters, my fliers, social media posts, and my slogans on that theme. My theme was Scooby Doo so I used bright colors and it took a lot of time. The week itself was really fun though, it was like the preparation was very nerve-racking. 
Carson: So Last year I did a song. I did a parody of Billionaire and it worked so great. For this year I already had thought out my theme but, what was hard  for me this year was the fact elections pretty much left my mind. The week before was the spring rally, and I was in volleyball season so life was getting busy. The week prior to election week, I told my mom it was coming up, and she was kind of mad at me to put it nicely… That was week was a little more stressful because we had to order our materials. From there I came up with my song ideas for this year. I would say because I've run before in the past, I feel like it was a little easier this time.
What was the most fun part of your campaign?
Mya: I loved the booths. It was raining and my decor was getting messed up but all you could do was laugh during the rain. I do have my sisters on campus who are in different grades and who helped the lowerclassmen. It was funny how things were going wrong.
Carson: During election week, there's another energy level that comes out that the rest of the student body doesn't see. I am in the zone, and I pull out the "ASB" side of me that only ASB gets to see, but not so much the rest of the student body …Getting strange looks from people and being like "Yeah this is what I do". It's really fun and you just go with the flow, and have fun with it!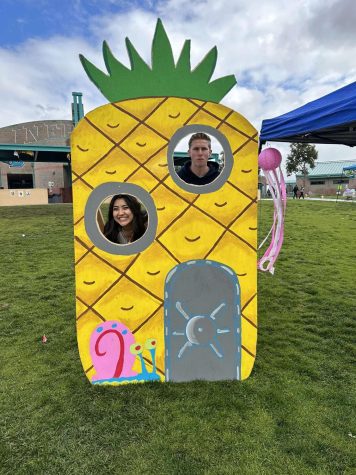 What was the most stressful part of of your campaign?
Mya: Although I had a lot of fun every day, you're always thinking about how the numbers are doing and where you stand.  We don't get to see any of those numbers, we just hear on the announcements on Friday so It can be really nerve-racking. When you're at lunch during election week, you would go around asking people "Hey have you voted yet?"  and they would say "Yeah I have", or they would tell you who they voted for and that's your opponent, or they would just verbally attack you. I think it was definitely the anticipation that got to me.
Carson: For me, the most stressful part was the setup on Monday morning. I feel like that's when you realize, "All right you're in it" and you're in the full swing of things. During elections week, you have a limited amount of time to complete what you have to do. You would get pulled out of the third period, and have 20 minutes to set up your booth for lunch. 
Who was your biggest help during the campaign?
Mya: One million percent my sisters and my cousin. My two sisters are twins, they're sophomores and gave me extra help. They helped me campaign, sending it to their friends and saying "Hey you should vote for my sister". My cousin is a freshman right now… She really helped. The three really helped me that week and I owe them one… I think I'm going to buy them dinner
Carson: Last year my brother helped me but now he's in New Zealand serving a mission for our church. This year it was different because I didn't have someone specifically on campus that could help me but, my parents helped a ton. I'm not the most "creative", or "artsy" person so when I made my posters, I needed a little extra help. My mom helped me make posters waterproof and helped me with the creative aspect of the campaign. And I just had to execute the leadership.
Mya: Thinking about it… My friends were also a big help. Carson was very helpful that week just because he was like "Don't be negative". I'm the kind of person who hates getting their hopes up and you start thinking things like, "I'm not gonna win.. This and that", and Carson and my other friends who were running were like "You have a chance. Keep going". They really helped motivate me. 
Carson: I remember it that Thursday before they were announced and she (Mya) was like "What's the point?" "I've lost already". And I was there and said, "What do you mean! They haven't even announced it". And then she won, and it was very exciting.
What's your plan for next year?
Mya: With rallies this year, the Senior class made me sad. They had no spirit, they boo'ed, they were not having it. Out of the three rallies this year, our Junior class was able to pull out two first-place wins during our class competitions and that really helped boost the junior class. Compared to the first rally to the last one, I could tell people were a lot more energetic and having fun in the last one.
 I want that trend to keep going you know. I want our Senior class for next year to be really hyped and into school and want to participate in the events that we have because it will be our last year.
Carson: This year, we didn't have a chance to bond with our class. I want to make sure our class is bonded and on the same page from the beginning. I feel like being on E-Board and being Vice president will give me the experience the help get our class on the same page because we have to act as one and work together or else some drama happens… But if we are all on the same and working together from the beginning, then the outcome will be nice.
How do you feel about the upcoming year?
Mya: Im excited about next year! I feel like we're going to have a strong class and you'll be able to tell. Next year is going to be bigger and better if that makes sense.
Carson: With the E-Board we have this year and the class were developing,  were going to be going into next year a lot stronger than we did last year. I feel like we're going to go in very much prepared, it's going to be a banger, and it's going to be so much fun.
View Comments (1)
Your donation will support the student journalists of Santiago High School - CNUSD. Your contribution will allow us to cover our annual website hosting costs.
About the Contributor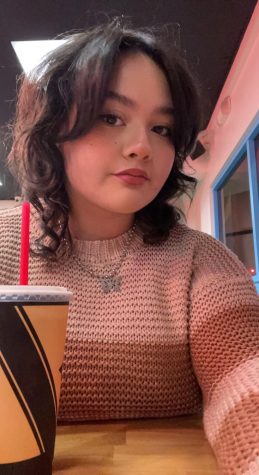 Breanne Soto, Staff Writer
Breanne Soto (11), a current junior at Santiago High School, plans to pursue journalism in college. Since very young, she has always had an interest in...