Are UC school Admissions Down?
As college admission season draws to a close, many high school students and their families eagerly await whether they've been accepted into their top-choice universities. For California residents, one of the most popular options is the University of California (UC) system, which comprises nine undergraduate campuses across the state. However, with the ongoing COVID-19 pandemic and a record number of applicants this year, the question on many minds is whether the UC acceptance rates were higher or lower this year than in previous years.
According to preliminary data released by the UC Office of the President, 249,855 students applied for first-year admission to at least one UC campus this year, up from 227,464 last year. This marks an increase of approximately 10% in the number of applications received, despite concerns about the pandemic's impact on student's academic and extracurricular achievements. The rise in applications is likely due to various factors, including the UC system's reputation for academic excellence, affordable tuition rates, and commitment to diversity and inclusion.
However, despite the surge in applications, the UC acceptance rates for the class of 2021 were slightly higher this year than last year, indicating that the UC campuses could accommodate more students despite the increased demand. According to the data, the overall acceptance rate for California residents was 69%, up from 64.5% last year. In comparison, the acceptance rate for out-of-state and international students was 22%, up from 20.9% last year. This means that out of the total number of applicants, approximately 162,600 were admitted to at least one UC campus, compared to 144,018 last year.
While the slight increase in acceptance rates is undoubtedly good news for students and families, it's worth noting that the competition for admission to specific UC campuses remains incredibly fierce. For example, the acceptance rate at UC Berkeley, one of the most selective campuses in the system, was just 15.1%, down from 17.5% last year, despite an increase in applications. Similarly, the acceptance rate at UCLA, another highly selective campus, was 14.3%, down from 14.7% last year.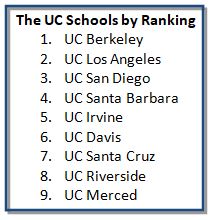 According to UC President Micheal Drake, the stable admission rates are a testament to the UC system's commitment to access and equity. "We are proud to offer a world-class education to students from all backgrounds, and we remain committed to ensuring that every qualified student has access to a UC education," Drake said in a statement. Despite the challenges posed by the pandemic, we have continued to prioritize diversity, equity, and inclusion in our admissions process, and we are thrilled to welcome another particular class of students to our campuses."
Overall, the data suggests that while the UC acceptance rates were higher this year than in previous years, there is still a great deal of variability in admission rates across the nine undergraduate campuses. Therefore, students and families should be prepared for a highly competitive admissions process and should not assume that acceptance rates will continue to rise. Nonetheless, the fact that the UC system was able to accommodate more students this year despite the pandemic and the increase in applications is a testament to its commitment to providing access to high-quality higher education for all qualified students.