Queen Charlotte: A Bridgerton Spin-off!
*Warning a few spoilers; proceed with caution*
On May 4, 2023, Netflix released Queen Charlotte: A Bridgerton Story, created by Shonda Rhimes, who also developed other popular shows like Grey's Anatomy, scandal, and much more. This heartthrob historical romance show has been taking over the nation; everyone seems to be discussing it. What makes this show a little more unique than others is that there are only six episodes in total in the first season, and each is about an hour long for each episode. This show mainly focuses on a character named Charlotte who becomes the queen of England (played by India Ria Amarteifio) and follows her relationship with the king of England, George (or farmer George), who is played by (Corey Mychreest). This show is a witty, romantic, and sorrowful production that goes through many serious topics, primarily mental health.
This show does not only follow one character storyline; many storylines were developed. Like lady Danbury (Queen's friend/ladies), Brimsley (Queen's right-hand man), Reynolds (King's right-hand man), and more. These characters are from the original show Bridgerton, and Queeb Charlotte: A Bridgerton Story shows their backstory. Many people enjoyed how they showed us the characters' backstories because it helped us better understand the dynamic of some relationships, specifically the king and queen's relationship. In the past, all the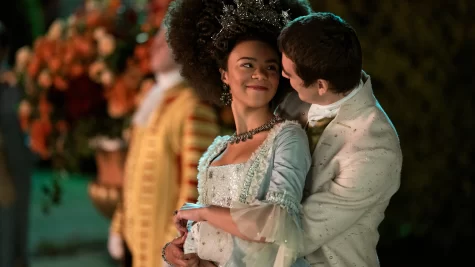 audience knew was that the king was isolated and suffering from mental illness while Queen Charlotte continued to rule. Though now, we know how his condition works to an extinct and how they genuinely feel about each other.
As I previously stated, many were intrigued by the main character's story and the other relationship dynamics. For example, we saw an LGBTQ+ representation relationship between Brimsley and Reynolds. This was a new relationship we had never seen before, which many were pleased to watch. Although sadly, they do leave us on quite a cliffhanger at the end on what happened between them, the audience has hope. Another new relationship was an affair between Lady Danbury and  Lord Ledger; However, we had already been introduced to Lady Danbury, Lord Ledger (played by Keir Charles), a new addition to the show, is Violet's father. We get to see their relationship secretly develop; The display also shows us what is going on in their current time, where Violet and Ladydanbury develop a friendship. Violet secretly finds out about her father's affair in their current period but does not admit to Lady Danbury that she knows. This leaves the audience anxious and with many unanswered questions.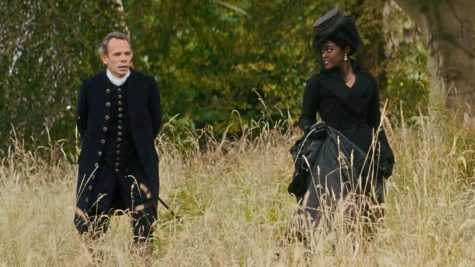 Queen Charlotte: A Bridgerton Story has been on the Netflix top ten ranks nationwide for weeks; it is currently number one. It is ranked number one in multiple countries, like Argentina, Belgium, Brazil, and many more. It has earned 148.28 million hours viewed during May 1-7, making it the streamer's most-viewed title this week. It has been rated 93% on Rotten Tomato for the Tomatometer and 84% as the audience score. This shows how successful the show has been so far. It has also been trending not only on Netflix but also all over social media like Youtube, Instagram, and TikTok. As many of you may know, TikTok loves its romantic leads, and Tiktok has been blasting with edits. This type of social media interaction helps boosts a show's popularity which I must say has been working.
Although this show has not yet confirmed anything about season two, season three of Bridgerton has been established to air though the date has not been revealed. Many look forward to seeing what season three will bring and hopefully answer fans' questions about Queen Charlotte: A Bridgerton Story.