Death of the lookalike Kim Kardashian
The model Christina Ashten Gourkani died from surgery of a nonlicensed lady; the woman who allegedly gave Gourkani the injections, Vivian Gomez, who is 50 years old, was arrested on April 20 at the airport. Vivian was charged with involuntary manslaughter and practicing medicine without a license.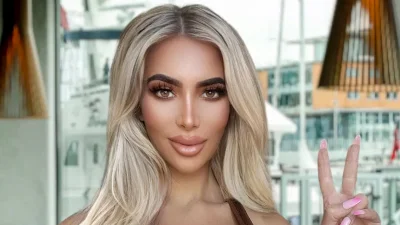 Christina Gourkani was 34 when she died on April 20 from cardiac arrest related to illegal cosmetic injections meant to enlarge her butt; the toxicology report is still pending, so the mystery of what injection she got is still in the midst.
"In the early morning hours at approximately 4:31am on 4/20/2023 our family received a tragic phone call from a family member who was frantically screaming and crying hysterically on the other end of the line….Ashten is dying…Ashten is dying," her loved ones wrote. "A phone call that instantly shattered our world and will forever haunt our family for the rest of our lives."
Her family members have expressed their feelings on their recent loss and put out a Go Fund to help with donations for her funeral costs and also shared details about her personality.
"She was such a caring and loving free spirit that always took the time to bring a smile to anyone's face she crossed paths with. Ashten's spirit is a light that will forever carry on to her loved ones around her and those that she has left behind."

"On many occasions I've seen her turn her adversaries into life long friends just after 10 seconds of pouring her charismatic joy, positive energy and her beautiful smile that she gave to those around her,"
Plastic surgery is a dangerous thing to do, Dr. Michael K. Obeng, a certified plastic surgeon, has stated…
"Most of these illegal injections are made with silicone, and silicone or any foreign substance can migrate within the body, which can lead to infection and hardness over time, deforming parts of the body,  And if it gets in the bloodstream, it can block the blood vessels and cause necrosis [or dead tissue]. So that's a huge danger."
Plastic surgery can change people so much and make them into people their families don't even recognize.
Christina Ashten Gourkani was a famous model and influencer who often went by the name Ashten G online. She had tons of loving followers who will miss her, no doubt.