Since the pandemic, Santiago has been labeled as one of the chillest schools to be at, and many students can attest to that, too. Since then, the 2023-2024 school year has started quite differently. In fact, I think some would argue that we could be deemed as the strictest school, but is that really the case, or are people just being overly dramatic and don't like rules? I wanted to find out more, so I asked Mr. Ross, the person everyone seemed to want to blame for the change. 
Mr. Ross is a transfer from Centennial, and many students assume he is the one who is responsible for the new tardy policy. These rumors were conspired by Centennial kids, who then told numerous Santiago students. 
I asked, "The rumor on campus is you were the one who implemented the new tardy policy. Is this true or false?"
Mr. Ross kindly replied, "It was an administrative decision. Last year, there were a lot of excessive issues with tardiness in the first period. There were a lot of concerns from students and parents who were calling and saying there were a lot of disruptions. Teachers were feeling like they were missing instruction, and it was impacting grades and performance. So the admin team decided to put in some policies to try and discourage them from being late, to encourage them to have no time so they will be more successful."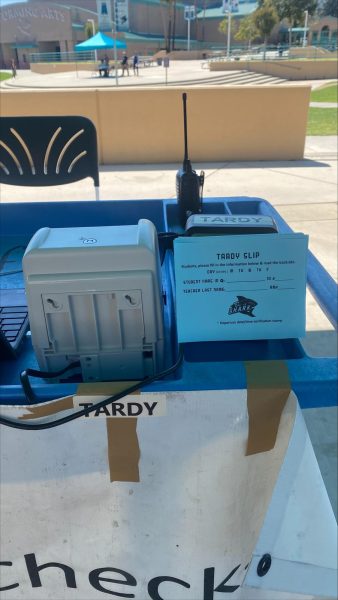 Even with the numerous complaints about the tardy policy, it is doing its job; however, there are some downsides to the new tardy policy. I  also interviewed multiple students, and their answers were similar. They opt to ditch their first period(s) if it means they won't get lunch detention or a Saturday school. So this begs the question: Is this new tardy policy genuinely worth students missing a whole period? Only time can tell. Administration reports that  300 kids needed to do Saturday school last week, which is the highest amount we've had in a while, but that number is expected to taper over time. 
Most of the time, students try to find a scapegoat and someone to blame. Last year, it was Mr. Shaw for Minga, but he has now fully embraced it through his new slogan, "Minga Time!" which he can never live down. But, this year, it seems Mr. Ross is the latest person to blame for an entirely different topic. Is Santiago getting strict or just finally laying down ground rules they should have never let slide during COVID? 
Mr. Ross commented, "I think the most important thing when it comes to any policy on any campus is for students to understand that adults are not trying to get in the way of their fun, that we truly care, we want kids to be safe, and we want kids to be successful. And part of doing that is to ensure we have systems in place to encourage kids to be in class and on time". 
Many students are worried he wants to change too much about Santiago, but that's not the case. He states how he wants to learn what it means to be a Shark and observe now. 
Only time will tell if these new policies will work or will make things worse.