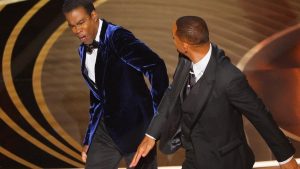 Do you remember the iconic 90's couple, Will Smith and Jada Pinkett Smith? Well, the once iconic couple turned controversial over the past few years. Specifically, the infamous slap heard worldwide has been separated for the past several years. In an interview, Jada Pinkett Smith revealed that she and Will Smith had been separated since 2016. This controversial couple has had their ups and downs, both publically and privately. 
 The couple first met in 1994 but didn't start dating until the following year. However, at this time, Will Smith was still married to his first wife, Sheree Zampino, with whom he had a son already. Zampino and Smith divorced in 1995, the same year that Pinkett and Smith got together. 2 years later, Jada Pinkett became Jada Pinkett Smith as she married Will Smith on December 31, 1997, in her hometown of Baltimore. However, their marriage didn't start on the right foot as Pinkett Smith revealed on her Red Table Talk that she "never wanted to get married" but only got married because she was pregnant with her oldest, Jaden Smith, and her mom was "too old school" to see Pinkett Smith have a child when she wasn't married. Even now, Pinkett Smith doesn't see them as married, not liking the label, saying that "love is freedom" means they have a life partnership where they remember to put themselves as people above others. The couple had their second child, Willow Smith, two years later, completing their family.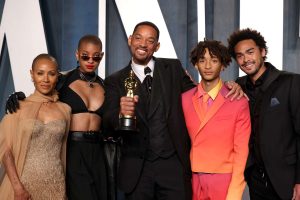 The family continued their lives without any rumors until 2011, when Pinkett Smith was accused of having an affair with Marc Anthony, who was married to Jennifer Lawrance at the time. The couple denied the affair, saying their "marriage is intact"; however, Pinkett Smith's statement raised eyebrows after a representative stated, "As for Will and Jada, I'm not commenting on their personal life." A few years later, in 2013, Pinkett Smith had to make another statement regarding Will and her relationship after being accused of having an open marriage. She posted on Facebook stating that they trust one another, which is allowing them to grow as one, but that doesn't mean they have an open relationship. Later that year, Will Smith was accused of having an affair with his fellow co-star Margot Robbie. However, Robbie quickly denied the rumor, saying it was taken out of context.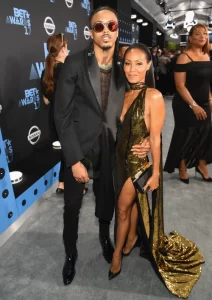 In 2015, Jada attended a festival where both her kids would be performing, where she met August Alsina, which was the beginning of her "entanglement" with the R&B singer. A year later, Will and Jada would, unbeknownst to the public, separate to find their happiness. In 2017, August Alsina and Jada made their first public appearance together at the BET Awards, looking relatively comfortable with one another. However, both Will and Jada keep up their appearances by mentioning each other in interviews and posting about one another on social media. Jada eventually brought August onto the Red Table Talk, introducing him as "a dear family friend." August later released music, a remix of Kehlani's "Nunya," where he included lyrics that alluded to Jada, like "You got me feeling like it was an act, you're just an actress." He also had texts with someone named "Koren<3", which also happens to be Jada Pinkett Smith's middle name- Jada Koren Pinkett Smith. Their entanglement soon became public after August Alsina outed the relationship in 2020 and claimed that Jada and he had Will's blessing to have the entanglement. Jada invited Will to her Red Table Talk, where she outwardly admitted: "It was a relationship." The couple faced another rough patch in their relationship the following year. Will even stated, "We realized it was a fantasy illusion that we could make each other happy." He continued saying that he and Jada would try and make themselves happier before coming together to be happy together. Months later, the infamous slap occurred where Will Smith slapped the actor Chris Rock, something Jada thought was a skit, which she revealed to PEOPLE magazine. During that same interview, she said that in 2016, they were both exhausted after being "stuck in a fantasy" of how the other should act, which led to their separation. She also stated that she "made a promise" that she and Will would never have a reason to divorce.
Will Smith has now responded to what Jada has said, stating that her memoir has "woken him up." Jada has also revealed that they are currently working to heal their relationship and bring them back to a healthy space. They both are currently working to accept one another for the humans they are, flaws and all.