Glass-blowing is one of many very underrated and underappreciated arts. Typically, when you think of art, you are more likely to think of painting, drawing, music, etc. You think of great artists like Vincent Van Gogh and Leonardo De Vinci. But something that you might not think of is glass-blowing, which is funny because you can find it anywhere. You might have a fancy glass bowl in your house or a pretty flower vase. And while maybe it wasn't explicitly hand-crafted by someone, that's where the inspiration came from. 
What is glass-blowing? It's right in the name. Glass-blowing is blowing molten glass through a tube to mold it into a specific shape. This can be used to make items like bowls, vases, plates, sculptures, ornaments, bottles, and even decorative pieces.
The practice of glass-blowing dates back to around the 1st century BC and first started in the areas now known as Iran, Lebanon, Palestine, and Israel.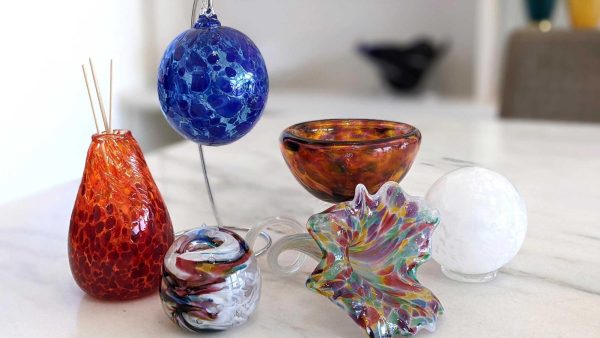 While the Roman government was the first to industrialize the practice officially, trade was eventually started between countries, which opened the people of Venice to the world of glass-blowing. Who would then eventually become one of the most famous groups of glass makers in the world after settling down on the island of Murano? 
The art first came to the US around the early 1600s in Jamestown. The attempt to create a glass-blowing industry there ultimately failed. However, glass-blowing lived on, and in 1739, the first successful glasshouse was established by Caspar Wistar.
There are several tools used in glass-blowing, which is typically why you'll find glassmakers in a studio. The essential tools you need for glass-blowing, however, are a furnace, a blowpipe, a marver, and jacks. The furnace is used to heat the glass to a molten stage. The blowpipe is the tube used for blowing air into the glass and what the glass is first attached to from the furnace. A marver, made of steel, brass, or graphite, is the surface used for rolling, shaping, and even cooling down the glass. Lastly, the jacks are steel tweezers that cut and shape the glass. 
The simplified process of glass-blowing goes like this. A pile of hot glass is taken from the furnace using the blowpipe. The hot glass is shaped on the marver. Air is blown into the glass until the intended shape is formed.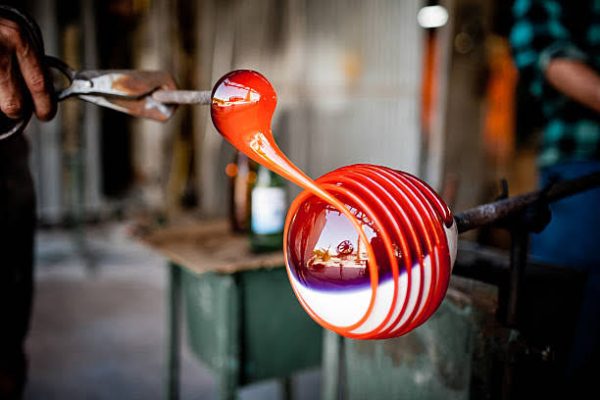 Throughout the process, the glass is reheated again and again. Smaller tools are used to create more precise details, and the piece is eventually cut off using the jacks.
While the process seems simple enough, like anything, it still requires lots of practice and hard work to get it right. And in the actual glass-blowing process, lots of precautions must be taken. It's a significantly more dangerous practice than many other types of art due to being around scalding objects all day. So, if you are interested in trying it, it is recommended to go to a professional before trying to attempt anything at home. 
Luckily, there are several places to go where you can experience glass-blowing in a safe environment. You can probably find several places that sell handmade glass, but places where you can practice yourself are a little more spread out. In Los Angeles, there is KT Glassworks, Barrio Glassworks in Carlsbad, and Stone and Glass in Escondido. All of which offer classes. 
Glass-blowing is an incredible art form, and if it interests you, I would recommend either trying a class or maybe even watching some videos about it. It's such an interesting type of art that definitely should get more attention. And one day soon, hopefully, it will.