Someone our age just did something no ordinary kid would think of, but Heman Bekle founded a treatment for skin cancer using just a bar of soap.

Who is Heman Bekle?

Heman Bekle is a 14-year-old who moved to Virginia, United States, at four years old. But he always remembered where he was born: Ethiopia. He is currently a Ninth grader at Fairfax County and is attending Woodson High School in Northern Virginia.

What caused him to make the soap?

Bekle's idea came from living in Ethiopia at four years old, where he told The Washington Post he had constantly seen people working under the hot sun. "I wanted to make my idea something that not only was great in terms of science but also could be accessible to as many people as possible."
His mentor at 3M, Deborah Isabelle, described him to the Post as "focused on making a world a better place for people he hasn't even met yet."
What was the process, and how long did it take?

From their first meeting, Heman's mentor, 3M product engineering specialist Deborah Isabelle, said she could see the teen's energy and passion for the project.
Heman and Isabelle had weekly virtual meetings as he worked on the prototype and documented his process — a requirement of the competition.
It took months of trial and error to create a prototype with a combination of compounds that could work effectively. Heman used computer modeling to determine the formula for the soap prototype he planned to present at the final competition.
What is the soap called?

The soap, called Skin Cancer Treating Soap (SCTS), uses a compound that helps revive dendritic cells, which cancer cells kill. Once the dendritic cells are restored, they can fight against the cancer cells. In essence, it reactivates the body's healing power, Isabelle said.
"The Skin Cancer Treating Soap reminds the body how to defend itself," she said.
Heman said that similar creams and ointments exist, but he doesn't believe soap has ever been used to fight against skin cancers in their early stages.
What did Heman gain from his experience?

For starters, he was named "America's top young scientist," out of the nine students, he won 1st and got the top prize of 25,000 dollars. "I'm still fully processing it. I just came out of the competition two days ago, and I think, more than anything, I'm grateful and thrilled to see where this project takes me," Bekele said.
He said he hopes to take the soap to market in the next five years and start a nonprofit to make it available to people in need.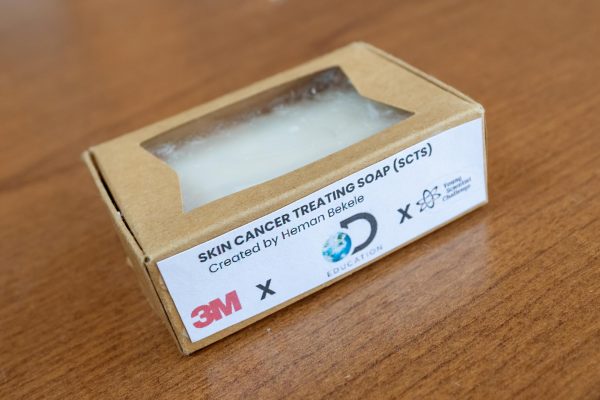 "There's a lot left for me to discover, but as of right now, I'm thinking of working on something in either the biomedical industry or as an electrical engineer, so either of those fields would be cool," Bekele said.