Ten Movies that Separate the Girls from the Women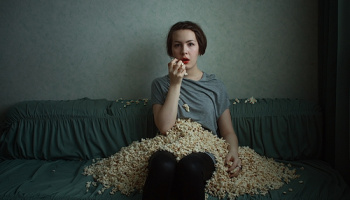 Hang on for a minute...we're trying to find some more stories you might like.
Ten Movies that Separate the Girls from the Women
(And yes, 'women' is the plural of 'woman' in the name of all that is holy!!!)
I just read the list from the student editor and liked it, especially recommending "SPR" and "Imitation Game," but he also included "Independence Day," so I have to retort with a list of my own. Mine isn't to help one prep for Junior year, but maybe just good cinema-going. As of 2016, nobody has a class to show a budding bloke the classics of cinema, so here you go:
Last Year at Marienbad
Resnais' classic meditation on perception may have happened—maybe it didn't!?? Either way, that B&W deep focus will press you into its maze of anxieties. If you like a story, abandon ye hopes all who enter here!
The Tree of Life
This was the last film that Roger Ebert added to his list of 10 G.O.A.T. movies before he died. Its point-of-view flipping and cosmos vs. suburban 50's Texas settings will lose most eyes with the slipperiness of wet salamanders, but to those whom it doesn't…enjoy profound meditations on God and family…and Sean Penn.
War & Peace
I saw Sergei Bondarchuk's 3-intermission opus in the Egyptian Theatre in Hollywood years ago. This rousing, romantic adventure through the War of 1812 culminates in immaculate strains of both personal and cultural struggle that weave indelible marks upon any of those hearty of hindquarter enough to suffer its 8+hour runtime. Additionally, when I saw this there were no women present out of a crowd of 100 people. Step it up ladies—set a better example for my daughter—women need to master cinema, too!
Vivre Sa Vie
OK, so it's Godard, so there's like, no story, I mean, she's just walking around and stuff, "living her life," but it's, like, Godard, so there's interesting jump cuts, rebellious dancing and mise en scene galore, so just take it all in and—oh yeah, didn't I tell you: at the end it just kind of—
Hara-Kiri
This looks like a chanbara, or samurai action film, but people really love Kobayashi's circular storytelling method in "Harakiri." No other Japanese director was as anti-authority as Kobayashi. Here we get his most eloquent version of that rebellious thematic and the results are incendiary.  Lesson: don't carry wooden swords!
The Conversation
From the first shot till the last, "The Conversation" practices a slow-burn character study of Harry Caul, look up the name, a genius techno-spy. Harry is a pedant, a loner who loves pouring himself passionately into his work and keeping everyone emotionally distant from him, in short, but that won't prepare you for what Coppola whipped up in between the two "Godfathers." His use of non-diegetic sound brings up questions of identity and the subjectivity of perception. Plus, Harrison Ford is the bad guy. Lesson: Don't flush strange toilets!
Lone Wolf & Cub Series
As you get older, gents, the action movies lose their audience in you. Whereas seeing a guy get his face eaten off by the acid emanating from a hostile xenomorph might pack you in the theatre at 14, at 34 it just has to happen for a reason or you know it's just exploitation. Senseless violence is one of the primary joys of cinema-going for young blokes (the lowly rom-com being the same flavorless trash spat out for females) but it ages as poorly as an opened Coke. Here's the antidote: six movies of ultimate sword-and-splatter, and there will be copious gore, I promise, but filmed with such loving balance and opulent color that even your adult sensibilities will eke out a smile.  If you get through them all, then I have 26 movies of the "Zatoichi" series to loan, baller, especially if you like Tarantino as much as the next failed film grad.
Rushmore
Not all cinematic masterpieces involve subtitles and foreigners, as many of the strangest cats one will ever spy reside right here at home in the good ol' U.S.A. Max Fischer is an over-committed theatre pubescent who befriends Bill Murray, here in his best role. The two of them plot against hope, desperate plans by desperados to ensnare women out of their leagues, all to the tune of 60's garage bands and Who samples. This is that rare film as ridiculous as it is honest with every age group it portrays, possibly because it paints everyone as in nerd-hues, which is a more benevolent, if equally confusing, world into which to try to reside. And that last dance says it all….
Ran
The Emperor of Japanese Cinema is Akira Kurosawa. Seriously—take five and hail Kurosawa-san! All of his films are at least good, many classic; films like "Seven Samurai" or "Rashoman" exude such control in their compositions that the caustic emotions, real and uncomfortable, pour out of their frames with an unhinged vigor. Start your subtitled foray with him, to be sure, but save this gem for future viewing. "Ran" involves a version of Shakespeare's "King Lear" that trades English kings for Japanese warlords. That might not sound enticing, but think, then, of the epic battle scene at the third castle—the sound drops out and grisly images of arrow and spear-spilling blood wash over the viewer in a cacophony of fratricide and senseless slaughter. And if that final shot doesn't crush your optimism—ugh! Sweet nothin' will!
Mysteries of Lisbon
Most 3-4-hour-long movies deal with character and plot excessively, while the films of Bela Tarr, for example, self-elongate just out of the mere math of the length of their 2-10-minute shots. So one expects a little more in some ways, a little less in others? Not so with Raoul Ruiz' stunning "Mysteries of Lisbon." The most impressive aspect of this tale of multiple narrators and their respective flashbacks lies in the exquisite camera work, both in terms of the beauty of some of the outdoor shots and the stunning dexterity of its movement through those stately interiors. One pivotal scene, for instance, starts upside down as a character walks down a hall, then unexpectedly swerves to the left when he enters a conjoined room, before rotating back into an upright position as the character composes himself to speak with his superior. That the camera work could convey so much of the subjective experience of the character impresses far beyond what any picturesque sunset ever could. Not that there aren't beautiful sunsets, but for those one could just go outside.
You do go outside, don't you, Earl Sweatshirt? Meh, it's overrated anyway—enjoy your viewings of these classics from the comfy of your couch!