Sonora Grill Food Review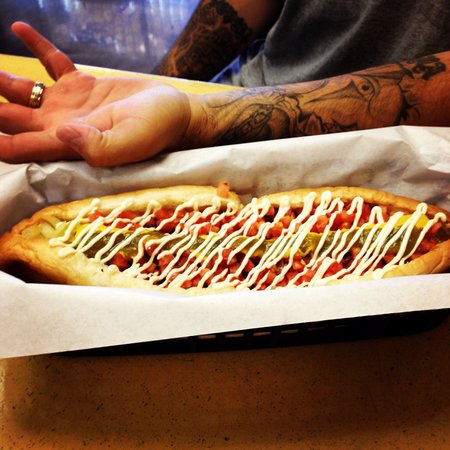 New wave Mexican food has been an up and coming trend over the last couple of years, and for good reason. What better of a place than California, bordering Mexico, for the American and Mexican culture/food to meld into one glorious meal. Located in Moreno Valley, California, Sonora Grill, a spot known well by locals, is the perfect place to grab a hearty bite to eat and even stay to watch the big game.
Sonora Grill has been operating for almost ten years now, and for good reason. They've built up great relationships with locals, and offer a different experience than other restaurants around. Not to mention, Sonora Grill is not a chain restaurant or even a franchise. All the time and dedication put in by the owner and staff go solely to the one location. The restaurant offers a variety of options on its handcrafted and perfected menu, ranging from Carne Asada Fries to Bacon Wrapped Burritos, not to forget the weekly specials thought up by none other than owner and founder, Chef Rudy Garcia. These specials which come and go include Teriyaki Pineapple burritos, Loaded Pastrami Fries, and even occasionally Cuban Sandwiches.
The restaurant itself gets its staple name of Sonora Grill from its original menu item – the Sonoran Dog, originating in Sonora, Mexico.  Just what is the Sonoran Dog exactly? Well, it's a bacon-wrapped, 100% Angus beef, hotdog, topped with beans, grilled onions, a house-made jalapeño sauce, mustard, and mayo, all sitting atop a freshly made bun. That's right, all bread is baked fresh daily on location in their bakery.
The food is reminiscent of both American and Mexican heritage, offering complex savory flavors in a refreshing and new style. Personally, my favorites from the menu would have to be, firstly, the Carne Asada Fries, which come loaded with fresh grilled, authentic, carne asada, beans, house-made guacamole sauce, sour cream, and, of course, the fries. The rich and savory carne asada compliments the sweet and aromatic house-made guac sauce perfectly, even though the portions are massive at Sonora Grill you'd never have a problem finishing your plate.
My second go-to would definitely have to be their Bacon Wrapped Carne Asada Burrito, lovingly referred to as the "El Chapo Burrito," since everybody wants to get ahold of it. Now, over here at SharkAttack News, when we say bacon wrapped, boy do we mean bacon wrapped alright. This burrito is absolutely massive and comes fully wrapped in bacon, but sometimes it's what's on the inside that matters most. This burrito comes fully stocked with carne asada, pico de gallo, shredded cheese, rice, beans, and of course avocado. The two types of meat, bacon and carne asada, although they wouldn't seem to be the greatest matchup, meld together in this burrito seamlessly.
It would seem that I'm not the only fan of Sonora Grill, as the restaurant has amassed an average 4.6/5 star rating from over 600 online reviews. However, it's not just the food that's keeping such a loyal fan base, it's the overall atmosphere of the restaurant. The owner, Rudy Garcia, goes above and beyond to connect with his patrons and establish a relationship. This is where the line is drawn between Sonora Grill and other restaurants, the owner sits down at the bar, walks around, shakes hands, and just gets to know the people. That is the most important factor in Sonora Grill's success story.
Overall, this writer gives Sonora Grill a total of 5/5 stars. If you're interested in checking out Sonora Grill feel free to drop by anytime!
Address: 23962 Alessandro Blvd, Moreno Valley 92553
Hours :
Monday-Thursday: 10:00 AM- 10:00 PM
Friday-Saturday: 10:AM- 11:00 PM
Sunday: 10:30 AM- 10:00 PM