Friendsgiving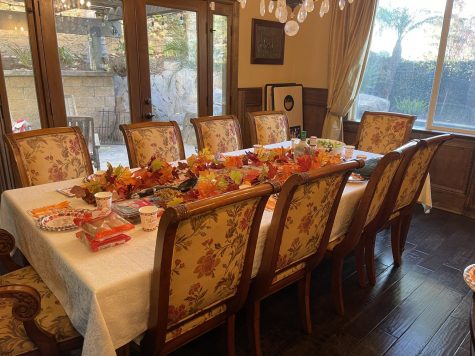 Many people are wondering why are schools are calling Thanksgiving Friendsgiving?
Schools call thanksgiving Friendsgiving because according to Merriam-Webster it explains that Thanksgiving is a holiday reserved for family and relatives, so Friendsgiving is nice because it focuses on other important people, your friends.
Friendsgiving is the one day a year in November when students have school so instead of spending Thanksgiving with family we get to spend a day giving thanks to our friends and having a thanksgiving day with our friends – the people who we have known for our whole lives or people we met throughout high school.
The High School also calls Thanksgiving Friendsgiving so we don't offend people.  Sometimes high schools have a Friendsgiving party at their homes or their friend's house to spend time with the people they love and have known for a very long time and spend time with their best friends or a special someone.
Some have asked me what the difference is between Thanksgiving and Friendsgiving so according to Merriam-Webster, while technically it's still a Thanksgiving celebration – regardless of whether or not you're related to the others at the table, many choose to refer to a gathering of friends as "Friendsgiving". Thanksgiving is a holiday you spend with your related family and Friendsgiving is a day where you can have Thanksgiving with your friends.
Friendsgiving can be fun with your best friends because you can post pictures of you having fun at Friendsgiving playing party games or making TikTok videos or singing and dancing with friends "Friendsgiving holds significant sentimental value especially for friends who cannot see each other often".  This November the 19th is Friendsgiving at both lunches if you choose to do Friendsgiving with your best friends make sure to bring blankets and food for a feast of how many people you are eating with.
CLASS of 2022 this is your last Friendsgiving in High School so Seniors live up.  Friendsgiving is the perfect opportunity for you to show all the friends in your life how thankful you are for each other.
Friendsgiving is one day in the year you get to be with the people who are the closest to you and eat a feast with those you love and be thankful for the friends you have and Friendsgiving is when you laugh your hardest and smile with your best friends and give thanks to the people around you.
Normally, if you have a Friendsgiving the most famous foods would be stuffing, a turkey, mashed potatoes and a bowl of salad and ham if you don't like turkey and of course Gravy and Pumpkin Pie and Apple Pie, brownie bites if no one like pumpkin pie or apple pie Peach cobbler and Mac and Cheese if people prefer that also.